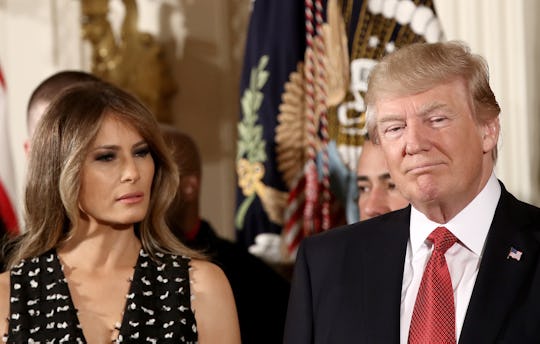 Win McNamee/Getty Images News/Getty Images
Is Melania Trump Leaving Manhattan Behind For Good?
Remember the good old days when the presidential administration didn't cause daily bouts of anxiety? Yeah, those were the best. Now it seems that not a day goes by without a controversial comment, shocking remark, or more bickering over golf trips and foreign policy gaffes. And while President Donald Trump is making all kinds of headlines in his own way, his wife has also been the source of much speculation since the election. As first lady Melania Trump and son Barron Trump have been living in Trump Tower in New York City since Inauguration Day, the question of whether their move to the White House will be permanent is pretty valid. So, after they pick up and head to D.C. this summer, will Melania Trump still live in Trump Tower occasionally, or is she making the White House her new home for good?
According to Fox News, Melania and Barron will be moving into the White House this summer, in order to allow Barron to finish out the school year in a somewhat regular manner. However, there has also been much speculation that Melania won't be completely vacating Trump Tower in New York City after the official move.
It's likely these rumors stem from Melania's initial stay in Trump Tower after the inauguration, with many sources claiming that the stay in Manhattan would be permanent, despite news that the family would reunite over the summer. (Romper has reached out to White House spokespersons for comment and is awaiting a response.)
However, it seems as though Melania's move to Washington, D.C. will indeed be lasting. As The New York Post wrote, "Melania has taken an active part in arranging the residence ahead of the move," reportedly according to a senior aide. And truly, it seems as though Melania is taking her new role as first lady very seriously, attending dinners and helping Trump host foreign leaders at Mar-a-Lago in Florida regularly. For all intents and purposes, she's simply taking the time she needs to adjust to living in the nation's capital — not keeping one foot in and one foot out.
Luckily, the first lady won't be lonely. As everyone knows by now, Melania won't be the only Trump family member living in D.C., as Ivanka Trump and husband and White House adviser Jared Kushner also recently made the move to the District, inciting protests at her residence and calling into question their role in the administration.
This separation of Trump and Melania is a historic precedent. But despite rumors to the contrary, for now, it seems the new FLOTUS is settling into the White House for good.