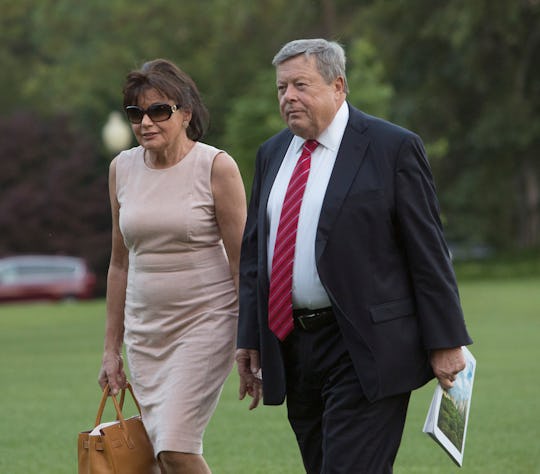 Pool/Getty Images News/Getty Images
Melania Trump's Parents Probably Won't Live In The White House
Melania Trump is now an official resident of 1600 Pennsylvania Avenue, or the abode most commonly known as the White House. Since President Donald Trump's inauguration in January, the first lady and their 10-year-old son Barron had been living in Trump Tower in New York City as Barron finished up the school year — and this week, they finally joined the president in their new digs. On Monday, as Melania and Barron descended the lawn into their new home, Melania Trump's parents, Victor and Amalija Knavs, followed as well. But although her parents accompanied them during the move, will Melania Trump's parents live in the White House themselves?
While Melania and Barron were living in Trump Tower without Trump, they were not alone. Fortune reported that the Knavs' were living in Trump Tower alongside their grandchild and daughter. Melania's parents come from Slovenia, but they have been living in the United States for some time. Though, according to The Daily Mail, they do still visit their home country every year.
But now that Melania and Barron have moved to Washington, it doesn't appear that the first lady's parents will be taking up residence in the White House with them — even though they did kindly help their daughter and grandson transition from Trump Tower to the White House earlier in the week.
According to reports, The Knavs' will not be relocating to Washington D.C. or the White House anytime soon — at least not physically. Because they've lived in close proximity to one another, the Knavs' are close to Melania and Barron — and just because they won't be living in the same state does not mean they won't be around at all: Politico describes the Knavs as being "hyperinvolved" with Barron's life, and according to Town and Country, Barron reportedly speaks Slovenian with his grandparents.
Because of this, according to The Daily Mail, Viktor and Amaljia are going to make frequent trips to Washington D.C. and will become familiar faces to the White House staff as they "help care for Barron." (They are already well acquainted with making weekend trips to Trump's Mar-A-Lago club in Palm Beach, Florida with the Trump family.) Vogue also reported that, even though Melania has moved in to the White House full time, "there is a possible indication" that she will still make frequent trips to visit her parents in New York.
Even if Melania's parents were to move in to the White House, they wouldn't be the first parents of a president or first lady to do so. Most recently, President Barack Obama's mother-in-law, Marian Robinson, moved into the White House in 2009 and stayed there until his presidency was over.