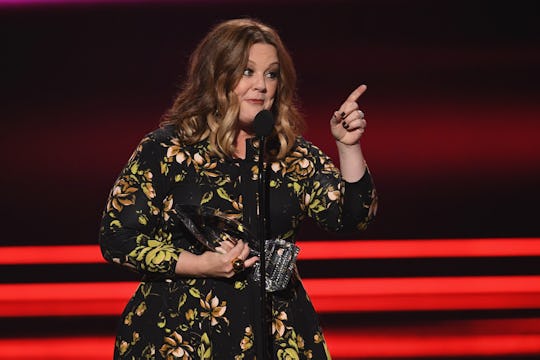 Kevin Winter/Getty Images Entertainment/Getty Images
Will Melissa McCarthy Attend The Correspondents' Dinner?
In yet another break from tradition, President and spoilsport-in-chief Donald Trump will not be attending the most entertaining political event of the year, because he can't play nice with the media. But that doesn't mean that party's cancelled. Will Melissa McCarthy attend the White House Correspondents' Dinner and reprise her Saturday Night Live role of Sean Spicer? Will Alec Baldwin stand in for the president? So far, there's very little intel on who's attending. The Daily Show correspondent Hasan Minhaj will headline, and famed journalists Bob Woodward and Carl Bernstein will be there. White House Correspondents' Association President Jeff Mason also told The Hill, "There may be a couple of surprises."
The dinner might not end up being the spectacle the public has came to expect during the Obama administration; not only is Trump not attending, he's holding a rally in Pennsylvania the same day, perhaps in an attempt to pull focus from The Fake Media™. This means that some correspondents who would have otherwise attend the dinner will have to skip it in order to cover the rally. And due to the president's absence, a number of the usual after parties have been cancelled. Parties, as you might guess, constitute much of the draw for celebrities.
According to the Washington Post, the ultra-exclusive Bloomberg/Vanity Fair party, the most coveted of tickets, has been cancelled, as is the similarly star-studded New Yorker party. People and TIME usually co-host an annual party the night before the event, and Google and The Hill each hosted along with various partners, but those have all been axed, as well. The same goes for Rock the Vote's Thursday night party. Funny or Die's Friday party has been replaced with a Saturday afternoon field day. Seriously, a field day.
But there are still some stars confirmed for a Washington visit this weekend. They're just not attending the official dinner. The Creative Coalition is hosting a dinner to raise funds for the arts on Friday, and Tim Daly, Chad Lowe, Alyssa Milano, and Wendy McLendon-Covey are set to attend. The Mother Nature Network is hosting a concert headlined by Billy Bob Thornton's band, The Boxmasters, the same night, and Samantha Bee is hosting a comedy show called "Not The White House Correspondents' Dinner" that boasts performers and guest such as Jessica Williams, Retta, Keegan-Michael Key, Matt Walsh, Padma Lakshmi, Kal Penn, Gloria Steinem, Rachel Bloom, Damon Lindelof, and Max Weinberg. Is there room in that lineup for a surprise SNL skit? Time will tell.