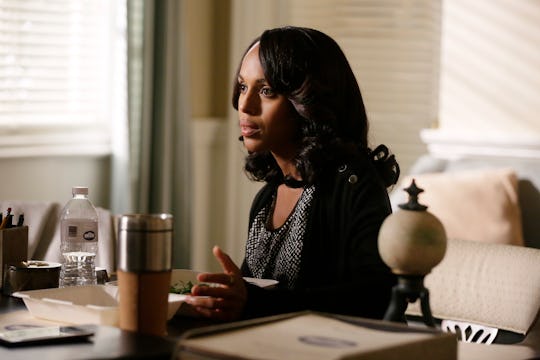 Nicole Wilder/Disney ABC Television Group/Getty Images
Will Mellie & Olivia Ever Be Friends? The 'Scandal' Women Have Overcome Too Much To Give Up Now
In the first few seasons of Shonda Rhime's hit show Scandal, we would not have guessed that Mellie Grant and Olivia Pope would turn out to be friends. Which makes sense–Mellie was First Lady to President Fitz Grant, who happened to be having affair with Olivia. Now in season five, however, the characters of Scandal have changed outlooks. But will Mellie and Olivia ever be real friends? Given what we've seen so far in the second half of the season, it might not be possible.
At least, that's what the end of this last episode let us to believe. Olivia and Mellie's relationships with Fitz are over, as of now. Mellie has her sights set on the White House, and Olivia wants to help her get there. One way to achieve that goal is through Mellie's memoir. Of course, she had already written one, but Olivia schooled her on how to make an interesting book that would appeal to voters.
Olivia and Mellie formed a brief alliance as well. In less than one episode, however, that alliance appeared to be unraveling. The cracks were first seen when Olivia was editing Mellie's book. Not only did she want to cut whole chapters of the book, she began asking provacative questions. The harshest of them: Why did she stay with Fitz when he was having an affair?
Obviously, the question struck a sensitive chord — with both Mellie and viewers at home. Twitter immediately blew up with reactions about the exchange:
While this confrontation was intense, things only got worse later in the episode. Mellie showed up to Olivia's apartment, drunk. She asserted that she stayed because her and Fitz's relationship was "working." Mellie continued on, saying she had gotten nothing out of her marriage with Fitz – except Olivia, as it it was a good thing.
Mellie continued her drunken tirade by claiming that the three of them – her, Olivia, and Fitz – "worked." Of course, Olivia brought her down to Earth to say she could never write any of that in her book. (Wise words.)
However, that voice of reason did not stop Olivia from drinking later in the night as well. This later led to a solid heart-to-heart between the two women, in which Olivia shared her appreciation for Mellie. She explained that she had left Fitz for the same reason Mellie stayed with him: She was scared.
By the end of the episode, the two seemed to be on better terms again. Considering Mellie and Olivia's long history and shared love interest, however, will they be able to be real friends, or will they simply share a history? Will they solely be a political relationship or can they be there for each other personally?
Fans seemed mixed on the issue:
Ultimately, we'll have to keep watching to see how their complicated relationship unfolds. For now, let's just drink our own bottles of wine and mourn the breakdown together.