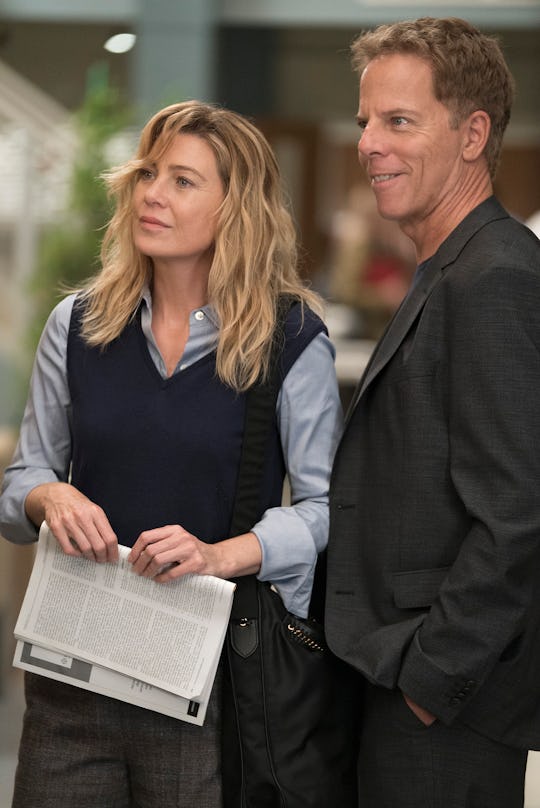 ABC/Eric McCandless
This Iconic 'Grey's' Character May Be Leaving The Show & Yep — This One Hurts
Premiere week sometimes means preparing to say goodbye before a a new season begins. It's true of The Big Bang Theory and with contracts up for the Modern Family crew, who knows what'll become of the Pritchett family after their 10th season. But what happens when you deduct the central character and namesake from a show? Such might be the case for Grey's Anatomy after actress, Ellen Pompeo, hinted at her desire to take on other projects. But after 13 years as our beloved doctor, will Meredith be leaving Grey's Anatomy? Say it ain't so.
According to Entertainment Weekly, Pompeo's contract — which makes her the highest paid dramatic actress on TV — only covers through the end of Season 16 in 2020. "I'm clearly not prepared right now to make any formal announcement about what my future is on the show, but I am really feeling like we have told the majority of the stories that we can tell," she said. "I'm really excited to do some new things, it's about time that I mix it up and I'm really excited about my producing career, and I'm definitely looking for a change." Being present for her three children (all under 10) are also among the reasons Pompeo added "I still care very much about the show and I think that it takes a lot of energy. So at some point I have to wrap it up."
After 300 episodes of watching Dr. Grey go through everything from loss to marriage and everything in between is to know and love a fictional character as if she existed in real life. To think the Shonda Rhimes brainchild that's left viewers sobbing as much Jack Pearson's death on This Is Us — but for way more years — could lose the doctor we'd follow anywhere? Pompeo may be ready, but the world isn't. But E! Online reported that Rhimes and Pompeo made a pact that when Grey exits, the show's over. "If she wants to stop, we're stopping," she said. "So I don't know if we'll see 600, but I want to keep it feeling fresh. As long as there are fresh stories to tell and as long as we're both excited about the stories being told, we're in. So, we'll see where that takes us."
But don't break out the tissues to say goodbye to Meredith just yet. According to Variety, Pompeo signed a two-year contract renewal with the ABC Studios, securing her $575,000 per episode. In an interview with ET, Rhimes said she doesn't have a specific ending for Grey's in mind, which could be comforting (or not). "You know, I don't think about it with an ending. There's no ending in mind anymore. I used to have all of these endings planned, but we passed one of them in season three and one of them in season five and one of them in season eight, so I've given up. I've given up planning endings."
I know this is rough, but it's not exactly new news. Back in May Pompeo commented on the show's direction saying, "yes, we're starting to think about how you would end a show this iconic," she said at the time. "How do you end it? But we're not there yet. We're in a contest with ourselves. How long can we keep this going and still have this level of quality."
It's hard to imagine Grey's without Meredith. She's become ingrained in the fabric of so many viewers' lives (mine included). Before McDreamy, McSteamy, and all the others that followed suit, I can honestly say, there's no one else like you, Grey.