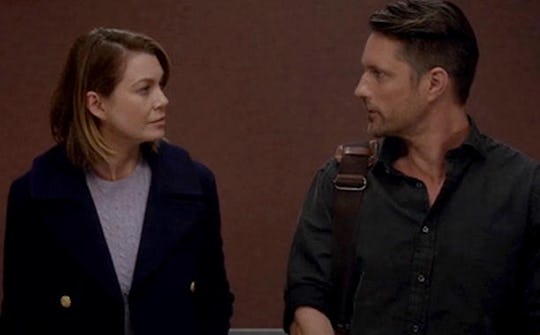 ABC
Will Meredith & Riggs End Up Together On 'Grey's Anatomy'? There Could Be A Love Triangle
It's been a while since Grey's Anatomy had a good love triangle. We'll never forget Meredith's heartfelt speech to Derek when he was choosing between being with her or staying married to Allison ("Pick me. Choose me. Love me."). Or the time Meredith started dating her dog's veterinarian and Derek couldn't handle it. Then there was Izzy/George/Callie, Cristina/Owen/Teddy, Matthew/April/Jackson, and so many others. But in the Season 12 finale of Grey's Anatomy, the Meredith, Riggs, and Maggie love triangle is created, setting up the show for drama in Season 13.
Recently, couples on Grey's have been getting married, divorced, or dying, with no real love triangles to be seen. Until now. In the May 19 episode of Grey's, Meredith and Riggs were tip-toeing around the fact that they had sex (four times, according to Riggs). Meredith was adamant on their hook up being a one time thing and Riggs felt that they could definitely just be friends with benefits. Still, neither of them crossed the line again, but they did have a nice chat right before Owen and Amelia's wedding.
Meredith told Riggs about the infamous post-it note and her small wedding to Derek at City Hall and Riggs shared his ex-girlfriend, Megan's, hope for a big wedding party. Although Meredith and Riggs didn't kiss or anything of that nature, you could see the clear connection between the two and it became even clearer as Meredith stood by the altar and looked out at Riggs during the wedding ceremony.
Unfortunately for Meredith, she wasn't the only one making eyes at Riggs. As Amelia and Owen said their "I Dos" Maggie confessed to Meredith that she liked Riggs. A lot. Maggie, who early in the episode, confessed that she's never even had one great love, is probably the sweetest, most innocent person on the show. More than that, she's Meredith's sister. There's no way Meredith can just be with Riggs now that she knows how Maggie really feels about him.
But Meredith and Riggs have already hooked up and they clearly having feelings for each other. Riggs and Maggie may have had some moments this season, but that's nothing compared to what's already happened between Meredith and Riggs. Still, as much as Meredith may be into Riggs, she loves Maggie, and even if it hurts her, Meredith may just step aside so Maggie can have her chance at love. The real question is, who will Riggs choose?