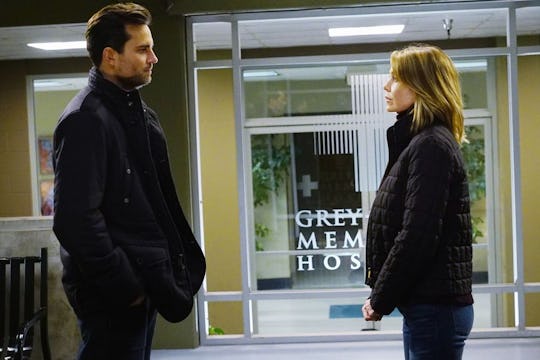 Richard Cartwright/ABC
Will Meredith & Will On 'Grey's Anatomy' Date? Here Are 5 Reasons Why They Should Get Together
To say that Meredith Grey on Grey's Anatomy has been through a lot would be an understatement. She drowned, she had a miscarriage, she was in a plane crash, her best friend moved to the other side of the world, her brain surgeon husband ended up brain dead, and she was almost beaten to death by a patient. At this point I'm not sure Shonda Rhimes actually likes Meredith Grey. Then again, maybe she does, because just when we think Meredith will be forever alone in comes Dr. Will Thorpe on Grey's Anatomy. But should Meredith and Will actually get together on Grey's Anatomy?
We first meet Will when our favorite doctors go to a military hospital to help a cancer ridden patient. Dr. Thorpe is not a fan of the Grey Sloan's doctors but works with them anyway, and by the end of the episode it's clear he doesn't just like, Meredith he really likes Meredith.
Once Jackson points out the obvious to Meredith, she decides to take a chance and put herself out there. Turning away from the waiting van, Meredith goes back and gives Dr. Hottie her phone number and they lived happily every after. Just kidding! This is Grey's after all. Instead Meredith ignores Will's calls and texts. Thankfully, Will isn't a quitter and shows up at Grey Sloan to ask Meredith out on a date in person. So should say yes? Absolutely! And here's why.