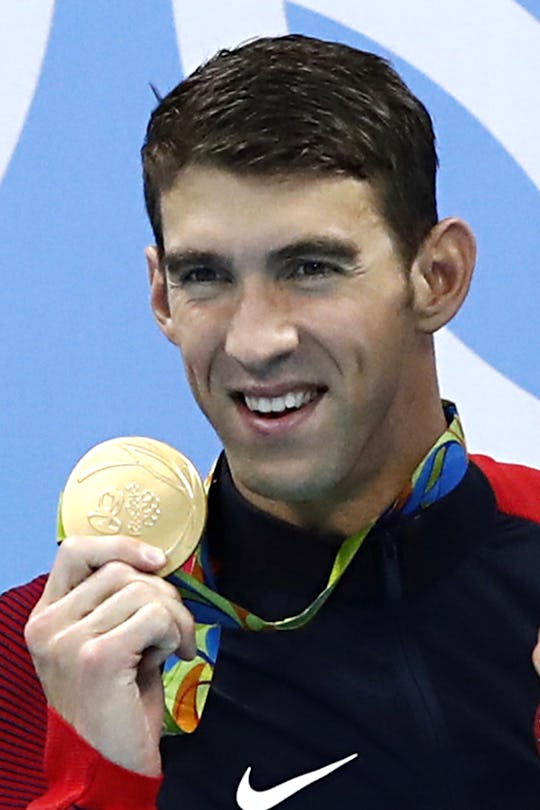 ODD ANDERSEN/AFP/Getty Images
Will Michael Phelps Be At The Olympics Closing Ceremony? The Gold Medalist Is Now Retired
The 2016 Rio Olympics comes to an end on Aug. 21, and it's been nothing short of historically amazing for some of America's finest athletes. And one of these athletes happens to be one of the most decorated Olympians of all time, leading some to wonder if Michael Phelps will be at the Olympics closing ceremony. The 28-time medalist carried the American flag at the opening ceremony earlier this month and gymnastics superstar Simone Biles will carry it on Sunday night.
The Summer Games in Rio de Janeiro marked Phelps' his fifth and final Olympics. At the age of 31, Phelps announced his retirement from competitive swimming, making Rio his last time on the Olympic podium. He came and he conquered in the Brazilian pool. Now, he is already getting quite cozy in this new phase of his life.
That being said, Phelps has already returned back home and he, sadly for fans, will likely not be at the Olympics closing ceremony. Instead, it looks like he will be spending time, in and out of the water, with his wife-to-be Nicole Johnson and his baby boy Boomer.
While Phelps won't physically be in Rio to cap off this year's Summer Olympics, it's a pretty safe bet that he'll be tuning in from his Scottsdale, Arizona home. Just like the most of the world.
Phelps may be missing the athletic atmosphere he was surrounded by in Rio, but he seems to be settling into his retirement just fine. Earlier this week, Phelps posted an adorable photo of how he spent his first day of this new, relaxing chapter of his life.
"There's nothing like being back home!!" he captioned the Instagram photo of him playing in the pool with three-month-old baby Boomer. "Great way to spend my first day in retirement!!"
Even though Phelps won't be at the Olympics closing ceremony on Sunday night, it will still be a memorable and historic night. Biles, the 19-year-old powerhouse gymnast, has been given the honor to carry the American flag, just as Phelps did on Aug. 5.
"It's an incredible honor to be selected as the flag bearer by my Team USA teammates," Biles told TeamUSA.org. "This experience has been the dream of a lifetime for me and my team and I consider it a privilege to represent my country, the United States Olympic Committee and USA Gymnastics by carrying our flag."
Even though Olympic fans will surely miss Phelps from the swimming pool, it seems like he's going to love his next important and possibly even more challenging role — Boomer's dad.