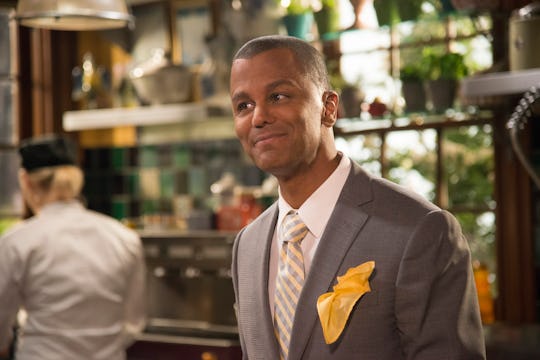 Suzanne Hanover/Netflix
Will Michel Return For The 'Gilmore Girls' Revival? Yanic Truesdale Is Back At The Inn
The Gilmore Girls revival is only a few days away, which means fans will finally be reunited with their favorite characters once again. Although everyone loved Rory and Lorelai as the main stars, there were many side characters that also received a lot of love from the fans as well, including Michel, who ran the front desk of The Dragonfly and Independence Inns. So you can imagine how happy fans were to learn that Michel is returning for the Gilmore Girls revival, especially because Yanic Truesdale, who plays the character, is just as excited about the revival as all of us.
Since the moment the Gilmore Girls revival was officially confirmed, Truesdale has been giving the fans exactly what they want. From his Instagram photos from the Warner Brothers set to the time he snapped a quick picture with Melissa McCarthy (basically assuring Sookie would be back before it was officially confirmed), it was clear right from the start that the actor was happy to be back with the cast that he loved. But that doesn't mean he hasn't also been busy with other projects as well.
Since the end of Gilmore Girls, Truesdale has appeared in multiple TV shows both in America and in Canada, including The Fixer, Mohawk Girls, Mauvais Karma, and Rumeurs. However, to Gilmore Girls fans Truesdale will always be the sassy hotel clerk, Michel.
Michel's dry humor was always a fun part of Gilmore Girls. He almost never did anything that was asked of him without a lot of resistance and a snarky response. His fights with Sookie were infamous and his love for Céline Dion and Destiny's Child was something I could always relate to. And although Michel would dish it out to Sookie and Lorelai on a daily basis, it was clear he loved them both, especially when he worried they wouldn't take him with them when they opened the Dragonfly.
Despite his sometimes rude remarks, fans knew Michel was a softie at heart. Even when he didn't want to do what was asked of him, he'd almost always come through for Lorelai and Sookie, which is why he's been the frontman for the Inn for all these years.
Gilmore Girls: A Year in the Life will be available for streaming on Netflix beginning on Nov. 25.