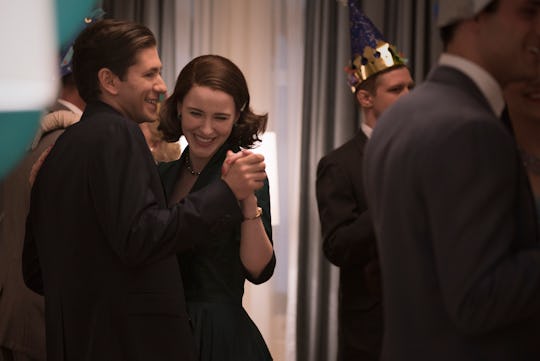 Amazon Prime
'Marvelous Mrs. Maisel' Season 2 Throws Midge & Joel Back Together
Amy Sherman-Palladino's first ever Amazon Prime series is back with a flurry of Emmys in hand. And as fans settle in to marathon the next installment this December, the question on everyone's mind is: will Midge and Joel get back together on Marvelous Mrs. Maisel Season 2? The trailer does give fans a glimpse of a potentially intimate moment.
Last season, after a bitter separation and talk of divorce, Midge and Joel ended up sleeping together again in the season finale. Joel realized that poor Midge was hosting their kid's birthday party with a wicked hangover when he caught her housing secret plates of macaroni in the kitchen. Overwhelmed and with her guard down, Midge found herself charmed and grateful for Joel's familiarity and the two ended up holding hands over a romantic plate of leftovers later that night.
He found himself in her bright pink childhood bed, just like before they were married, except this time, Midge is way more open with her estranged husband. Gone were her usual wifely routines of unhooking most of her bra clasps so Joel wouldn't have to do too much work, waiting until after he fell asleep to take her makeup off, and waking up early the next day to put it back on before he woke up. Joel, seeing his wife clearly for the first time, confided that she was worth the extra effort on his part.
The next morning, he shimmied out the window. But their relationship is no less complicated than it was before their moment of real vulnerability with one another. So now what? There aren't many spoilers about Season 2 floating around just yet, but fans do know from the trailer that Joel does make an appearance. In fact, the Season 2 trailer shows him tenderly dancing with Midge, which may suggest their affection for one another hasn't run its course just yet. Plus, at a TCA panel in July, Rachel Brosnahan pointed out the couple is inextricably linked through their children. "They will never be able to be without each other in some capacity, and [that] creates a dramatic tension," she said, according to Variety.
Potentially throwing a wrench in this season's will-they-or-won't-they is the arrival of Zachary Levi, the Alias Grace alum best known for his titular role on the five-season NBC series Chuck. According to The Hollywood Reporter, he joins the cast as "an eclectic Manhattan doctor who suddenly starts orbiting the Weissman/Maisel world." And the trailer finds him alone in a little boat with Midge. The likelihood of him being introduced as a romantic interest, either because Midge is genuinely feeling it or at the strong urging of her parents, seems high.
This first-time mom wants to have a home birth, but is she ready? Watch how a doula supports a military mom who's determined to have a home birth in Episode One of Romper's Doula Diaries, Season Two, below. Visit Bustle Digital Group's YouTube page for the next three episodes, launching every Monday starting November 26.