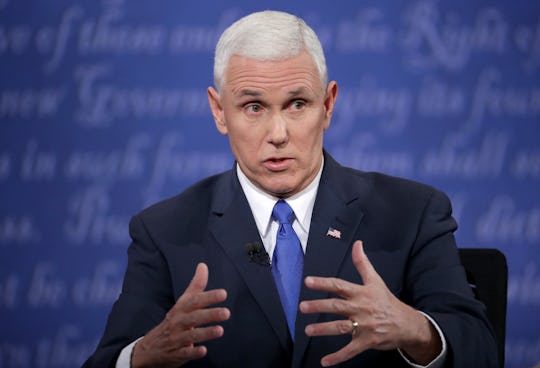 Chip Somodevilla/Getty Images News/Getty Images
Will Mike Pence Run For President In 2020? He Set Himself Up During The VP Debate
The vice presidential hopefuls have spoken – often overlapping and interrupting one another at many points — in their first and only debate at Longwood University in Farmville, Virginia. For the Democrats, Virginia Sen. Tim Kaine was on his home turf at the debate while Indiana Gov. Mike Pence played the away team for the Republicans. After an intense debate, many are already wondering what the next presidential election cycle might look like. Specifically, Will Mike Pence run for president in 2020?
Even after Tuesday's vice presidential debate, it's not a new idea that Pence could potentially run for president in 2020, or even 2024: It's practically an open secret in the political arena. "He would obviously be a favorite for a future presidential campaign after Trump has been president, and that's unusual for somebody who didn't run himself in what was a very crowded and talented field this year," Kellyanne Conway told The National Review in July, before she would become Trump's campaign manager. That fact wasn't lost on keen observers on Twitter either. Many echoed the notion that Pence just might make the leap into the presidential election cycle four years from now:
Speaking to Politico in August, Rick Tyler, former presidential campaign communications director for Texas Sen. Ted Cruz, said Pence could be riding Trump's presidential coat tails toward a presidential candidacy of his own in the future, but that could end up being problematic for the 57-year-old governor of Indiana:
Tyler added there may come a point when Pence has to choose whether or not to distance himself from Trump: "There's a lot of ways to do it," he said.
It was evident during Tuesday night's debate that Pence may have already made the choice to distance himself from Trump's own words. As Kaine brutally threw Trump quote after Trump quote out to Pence — many times verbatim from Trump's own mouth — Pence merely shook his head or laughed in response as Kaine spoke. Kaine hammered on Pence to defend his running mate's words — which Pence never actually did: instead, Pence spent more time denying that Trump even said those things.
Unfortunately for Pence, he seems to have forgotten either that Trump is on video running his mouth, or on his own personal, unchecked Twitter account. Still, Pence refusing to defend Trump was a glaring omission from every one of Pence's rebuttals to Kaine's argument based on Trump's own words.
This is a marked departure from how Pence has basically been Trump's "damage control guy" on the campaign trail, as Doina Chiacu and Steve Holland put it, writing for Reuters. Ryan Williams, a Republican strategist, also noted that Pence's association with Trump could end up hurting his political career rather than helping it, telling Reuters:
Mike Pence is a good Republican but unfortunately he will be associated with the controversies that have ensnared the Trump-Pence ticket and will be tied to whatever the consequences of this election are.
With just over a month until election day, it remains to be seen just what's in store for Mike Pence — but if Tuesday's vice presidential debate is any indication, it looks like he's already got his eyes on election day four years from now.