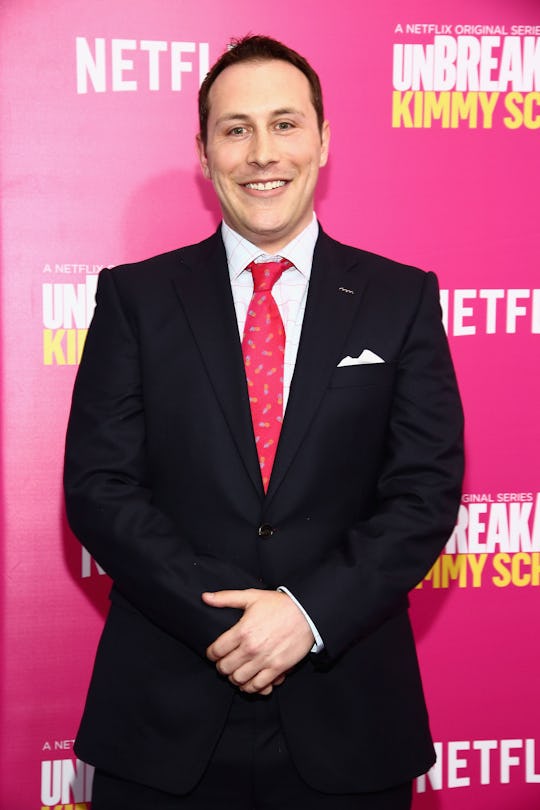 Astrid Stawiarz/Getty Images Entertainment/Getty Images
Will Mikey Be On 'Unbreakable Kimmy Schmidt' Season 3? It Looks Promising
It only took a day for me to finish Unbreakable Kimmy Schmidt Season 2, and naturally I'm already wondering about Season 3. It may be premature, but when you have a cast of characters so unique and writing so sharp, the next season truly can't come soon enough in my eyes. You might be specifically wondering if your new favorite construction worker, Mikey, will return to Unbreakable Kimmy Schmidt Season 3. If you are shipping Mikey and Titus, you're not alone, and you also don't need to worry, because chances are, Mikey will return.
This season was a total win for Titus, and in turn, Mikey. Titus seemed to really come into his own this season and learn that there was more to life than coming off as someone you're not. Once he broke down that wall, he established a relationship with Mikey, a former flirtation from his past. (Mike Carlsen, who plays Mikey, also played a cat-caller construction worker on 30 Rock.)
By the end of the season, Mikey encourages Titus to follow his dream, which seems to put a pin in the Titus and Mikey relationship for the moment — or at least make it long distance. But, it certainly doesn't seem like the end of the relationship in the least bit. If anything, I think that the relationship is just beginning.
In an interview with Entertainment Weekly, Carlsen agreed that the Titus/Mikey relationship was just beginning. "Let's just say that I think Mikey and Titus are at the beginning of a story," he said. He was also hopeful that the couple would end on a high note. "I think that last season, you saw the first chapter. This season, you see the middle of the book. And I'm really hoping that there will be a happy ending for them."
I am hopeful that Season 3 will bring more from Mikey, as well. He and Titus are so different, but they work. In fact, I'd say they are one of the most stable relationships on the show. We need to see them develop more as the show progresses, which means we need Mike Carlsen in another season.