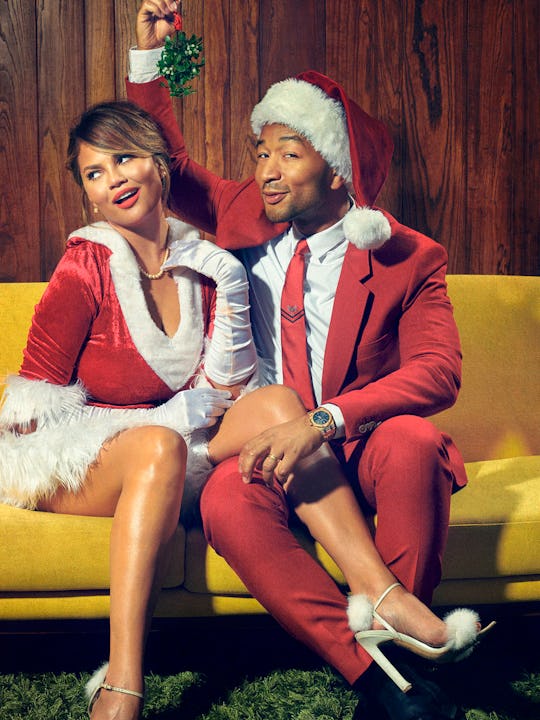 NBC
"A Legendary Christmas With John and Chrissy' Is A Spectacular Holiday Affair
While most people are just beginning to hunt for holiday presents for their family and friends, John Legend and Chrissy Teigen have already put together the perfect Christmas gift for their fans. The couple is starring in their own holiday TV special called A Legendary Christmas with John and Chrissy, and fans are anxious to know if their adorable kids will make an appearance. So will Miles and Luna be on A Legendary Christmas?
Both Miles and Luna Legend will be appearing on A Legendary Christmas with John and Chrissy, reported Oprah Magazine, and they will be joined by plenty of the couple's family and friends. The upcoming special is set to air on Nov. 28, right after all that Thanksgiving weekend madness, just in time to fill you with some much needed holiday cheer.
But alongside their family and friends, Legend and Teigen's TV special will feature some amazing performances and celebrity guests. According to Entertainment Tonight, Jane Lynch, Darren Criss, Meghan Trainor and Raphael Saadiq will be singing on the special, and the Fab Five from Queer Eye — Antoni Porowski, Tan France, Karamo Brown, Bobby Berk and Jonathan Van Ness — will also make an appearance. According to ET, the Fab Five won't be singing, but will make a cameo when they attempt to video call Teigen, but get Luna on the line instead. Can it get any better than this?
Apparently, it can. The Wrap recently reported that the one-and-only Stevie Wonder will join Legend and Teigen on this musical holiday journey. The music icon will play the harmonica while Legend sings the song "What a Christmas Means to Me" — a song Wonder made popular in 1967 when he released it as part of his "Someday At Christmas" album. Funny men Zach Galifianakis and Kenan Thompson will also join in on the Christmas fun, noted the Wrap, and will be lending their comedic chops for laughs throughout the special.
With all the celebrities and family fun it has to offer, the heart of A Legendary Christmas with John and Chrissy will be its music. According to E! News, Legend will be performing songs from his Christmas album, A Legendary Christmas, throughout the hour-long special. The album, which is available in-stores and on Itunes, Spotify, and Google Play Music, features 14 holiday tracks, including favorites like "Silver Bells" and "Have Yourself a Merry Little Christmas." With Legend's jazzy arrangements and smooth voice, I have a feeling this album is going to become one of my go-to Christmas albums for years to come.
Along with the Christmas album and TV special, Legend is continuing to spread holiday cheer with his new A Legendary Christmas Tour. The tour kicked off in Clearwater, Florida on Nov. 15, and will continue to travel coast-to-coast until Dec. 30, when it ends in San Diego, California. During the live shows, Legend will perform holiday singles from his Christmas album with a five-piece band, three horns and three backup singers, reported The Tampa Bay Times. And and while Teigen and the kids won't likely be on stage with him, the backdrop will feature videos and stills of the family, along with tributes to their love and the spirit of Christmas.
Honestly, I can't think of anyone better to host a Christmas special this year. Legend and Teigen are love and family personified, and when you throw Legend's soulful voice and their adorable babies into the mix, you may find it to be the most wonderful TV hour of the year.
A Legendary Christmas with John and Chrissy airs on Wednesday, Nov. 28 at 10 p.m. ET on NBC.
This first-time mom wants to have a home birth, but is she ready? Watch how a doula supports a military mom who's determined to have a home birth in Episode One of Romper's Doula Diaries, Season Two, below. Visit Bustle Digital Group's YouTube page for the next three episodes, launching every Monday starting November 26.