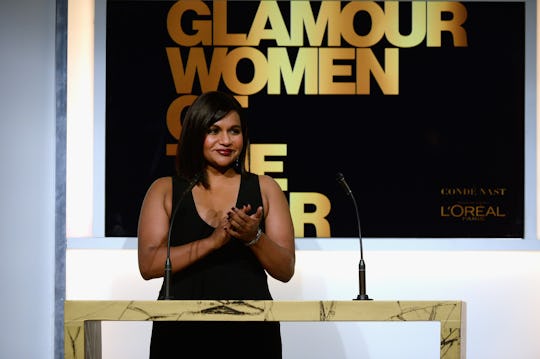 Kevork Djansezian/Getty Images Entertainment/Getty Images
Will Mindy Kaling's Pregnancy Affect 'The Mindy Project'?
Fans were ecstatic to learn on Monday that everyone's favorite funny-woman, Mindy Kaling, was reportedly pregnant with her first child. According to E! News, "multiple sources" said the baby news was "an unexpected surprise" — and a sweet one at that. Of course, plenty of fans are rightfully wondering as well whether Kaling's pregnancy will affect The Mindy Project, the comedy series she first created back in September 2012, in which she currently stars.
According to the unnamed sources who spoke to E!, Kaling's work on the Hulu series — which follows fictional Indian-American OB-GYN Mindy Lahiri and her life inside and outside the office — will not be affected by her reported pregnancy. The outlet, quoting its sources, added that "there will not be any changes made to production schedules for her upcoming projects." Romper has reached out to Kaling's rep for comment and is awaiting a response.
That's good news for fans, as this upcoming season of The Mindy Project, its sixth, is set to be the last. "We're really excited about this last season. I think the timing is exactly right. ... I mean this half-jokingly, but at a certain point it was like, I think she's dated every man in Manhattan," Kaling told Entertainment Weekly during an interview about the final season back in March. "Sex and the City lasted for, what, six seasons with 10 episodes each? I don't know that there's been a show about a woman trying to find love in New York City that has lasted quite this long. And frankly, there's no more actors in Hollywood left to date."
On a more serious note, the writer and actress added,
But the thing about these characters, especially this past season, is that we've really gotten into their romantic and interior lives. ... That's been really fun, and it just felt like… we've seen so much of Mindy's dating adventures, and I love that, but we've seen this character go through dating stuff a lot. We've seen her be a mom, and we even had enough time to explore that. We started this series when she was single, and now she's married and has a kid and she has a stepdaughter, and it kind of just felt like [a few] more episodes was all we needed to wind this down.
Given that the show just started filming its final season this month, it's likely Kaling's pregnancy won't exactly take center stage or change any pre-set storylines — though depending on how far along she is, it could potentially be written into the show, if Kaling herself decides to make it a central arc.
"I've always had an image in my mind of what would be in the last five minutes of the finale, but I don't know what the explanations are for it. ... I haven't figured that part out yet. But I want to do something surprising," Kaling said in that same EW interview. "I think it's working toward a finite ending. I've only done these series that last for a really long time, and I've been on two shows that have gone over 100 episodes, and in the middle of it, you approach the material very differently than you do at the beginning, and now, I get this gift."
It's too soon to say whether Kaling's supposed pregnancy will actually weave its way into the final season, the final episode, or those final five minutes, but Kaling is definitely certain of one thing: "We're going to blow the lid off the show," she told EW. "I'm so excited."