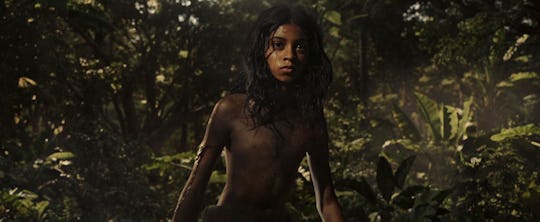 Netflix
'Mowgli: Legend Of The Jungle' Is Darker & Grittier Than 'The Jungle Book'
Rudyard Kipling's beloved 1894 classic, The Jungle Book, has entertained audiences for generations. The novel has seen plenty of film adaptations, but Netflix is promising that its new movie, Mowgli: Legend of the Jungle, is like nothing you've seen before. The live-action film may remind you of the Disney's 2016 version, but will Mowgli: Legend of the Jungle resemble The Jungle Book?
While both are based on the same Rudyard Kipling tales, Netflix's new version is not at all like the Disney version. The film comes from Andy Serkis — who you may recognize as Gollum from Lord of the Rings — and in an interview with NDTV, the director revealed that the film was made to resemble Kipling's novel, and is not as cookie-cutter as the previous versions. "The story is complex, dark — It is a very ideologically complex book, we all knew the film we were making and we were not going to shift away from that," he said. But when asked about how appropriate the dark tone would be for younger audiences, Serkis affirmed that there were no "gratuitously violent" scenes in the film, adding that he thought it would be good for children to "witness something that is visceral and intense" as long as it's part of a well-intentioned story."
If you're wondering why Netflix is releasing a live-action version of Kipling's The Jungle Book just a few years after Disney's version released, you're not alone. It turns out that Warner Bros. started producing Mowgli: Legend of the Jungle back in 2012, a year before Disney and director Jon Favreau announced their film. According to The New York Times, both films were being produced simultaneously, but when Disney released their movie in 2016, Warner Bros. decided to delay the release of their film so that they wouldn't have to compete.
In his interview with NDTV, Serkis also revealed that delaying the film gave him more time to make his movie better. "Because the other film started being made and we were using performance capture and that was going to take time to evolve and to do it properly, we found ourselves in a race with the other film, Serkis told the outlet. "We decided not to go into the race and let them come out and then we take our time so that we could really properly do the work that we wanted to do on the characters."
In the trailer for Mowgli: Legend of the Jungle, you can see that the movie looks aesthetically amazing, but the cast is equally impressive. Rohan Chand, previously seen in Bad Words opposite Jason Bateman, plays the titular character, Mowgli, and Christian Bale plays his black panther guardian Bagheera. Benedict Cumberbatch is cast as the villainous Shere Khan and Cate Blanchett lends her voice as the wise python, Kaa. Freida Pinto is set to play Messua, an Indian villager who adopts Mowgli believing he is her long lost son.
But I have to say — being of Indian origin myself and knowing the imperialist views Kipling had of India — it is Matthew Rhys' character that makes this movie far different than any other. In the movie, Rhys plays John Lockwood, a British hunter who comes in and threatens the sanctity of the jungle. The character is not featured in Kipling's book, but is named after his father, John Lockwood Kipling. Rudyard Kipling was a staunch imperialist who commended the British rule of India, despite the atrocities Indians faced at the hands of the British Army.
In an interview with Hindustan Times, Serkis said that he introduced the colonial hunter as John Lockwood because he wanted to make an indirect comment on the controversial nature of Kipling's history. "I was aware of this," Serkis explained of the controversy. "The complex nature of Kipling's story — he was raised in India, speaking Hindi, and he was sent to England, which he absolutely hated, and his parents were artists who taught in Lahore — really fed into our version of the story."
So while the Disney movie and the new Netflix movie both share the same literary inspiration, they are nothing alike. I'm excited to see this gritty and somewhat politically sensitive version of Kipling's classic, and with it's amazing cast and gorgeous graphics, I have a feeling it won't disappoint.
Mowgli: Legend of the Jungle premieres on Netflix on Friday, Dec. 7.
This first-time mom wants to have a home birth, but is she ready? Watch how a doula supports a military mom who's determined to have a home birth in Episode One of Romper's Doula Diaries, Season Two, below. Visit Bustle Digital Group's YouTube page for the next three episodes, launching Mondays in December.