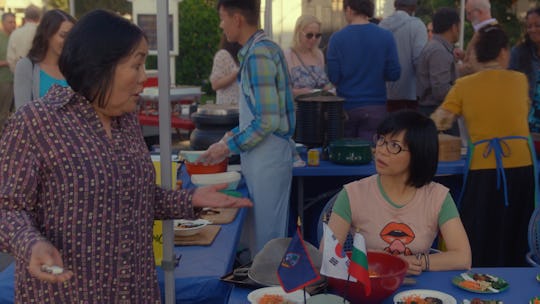 Netflix
Will Mrs. Kim Be In The 'Gilmore Girls' Revival? Emily Kuroda Is Back As Lane's Mom
It's almost unbelievable that Gilmore Girls: A Year in the Life is almost available for streaming. Fans have been waiting for years to see what the Gilmore girls have been up to and can't wait to catch up with them again. Besides the Gilmore girls themselves, though, fans are also equally excited to see the people of Stars Hollow again. The quirky town filled with even quirkier neighbors was a major part of the reason so many people fell in love with the show in the first place. And among the many characters that will grace our Netflix screens, I'm pleased to say that Mrs. Kim will definitely be in the Gilmore Girls revival as well.
The formidable Emily Kuroda is returning to play the role of Lane's mom and it'll be interesting to see if Mrs. Kim has become more lax in her older age or if she treats her grandsons Stevie and Kwan with the same kind of rule structure she raised Lane with. Of course, Lane and Zack would've raised their children as they saw fit, but it seems doubtful Mrs. Kim wouldn't have put in her own two cents every now and then.
Besides Mrs. Kim's very strong religious beliefs and running the antique store, there was a lot fans never knew about her private life. For one thing, what is Mrs. Kim's first name and where is her husband? Lane's father was briefly mentioned in the first few seasons, but never appeared and after a while he just stopped being mentioned all together. One would assume he's alive since the characters never said anything about Lane's father being dead, but if he is alive then where is he? Maybe this will be a mystery solved in Gilmore Girls: A Year in the Life, but it's more likely fans will have to be resigned with never knowing the truth.
After Gilmore Girls, Kuroda stayed busy with work. She's appeared in various TV shows, including Under One Roof, Drop Dead Diva, Sequestered, The Bold and the Beautiful, and Just Us Guys. No matter how many other roles she plays, though, Kuroda will always be Mrs. Kim to Gilmore Girls fans and they're happy to have her back in their lives again. Although she was overly strict at times, everything Mrs. Kim did came from a place of love for Lane and even though her parenting style was much different than Lorelai's, she was still a great mom in her own way.