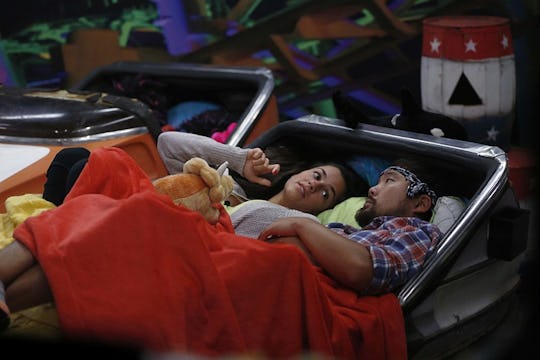 Will Natalie & James Date After 'Big Brother 18'? They've Already Made Plans
Natalie and James, also popularly known by their ship name "Jatalie," are quickly becoming America's favorite showmance on Big Brother 18. With their cute cuddle sessions, intimate talks, and the way they seem to always have each others backs, no one can deny their chemistry. Even when their relationship was tested this week when the house decided to target them in an effort to break them up, Natalie and James were able to talk it out and stay strong together. "Jatalie" seems like the strongest showmance in the house right now, which has made fans wonder if Natalie and James will actually date after Big Brother 18 ends.
Even though Natalie is up on the block this week, it's unlikely she'll actually be sent home, which means James and Natalie's showmance will have even more time to develop. As these two continue to draw closer, we all want to believe their flirtation is legit, but we can't forget that Big Brother is a show and when they get back in the real world their feelings may change. However, they've already survived their first "couple fight" during which Natalie accused James of being too flirtatious with the ladies in the house and James retorted that she also flirted with Paulie. The fight seemed to only make their relationship stronger.
"Jatalie" seems to be stronger than ever, and they aren't afraid to let the other houseguests know they're "together", whatever that actually means inside the house. Although it's probably not the best strategy for their game, it is really cute to see these two together and working together. They've even discussed the prospect of marriage (jokingly of course).
Whether or not these two make it down the aisle, they've already started making plans for dates outside of the house and agreed that even if they don't end up dating once they leave the house, at the very least they'll remain friends.
Here's to hoping James and Natalie won't go down as just a showmance, but as something more. Watching these two fall for each other is incredibly cute and it'd be devastating to see it end when Big Brother does. For now, we'll just have to wait and see if Jatalie really has a future.