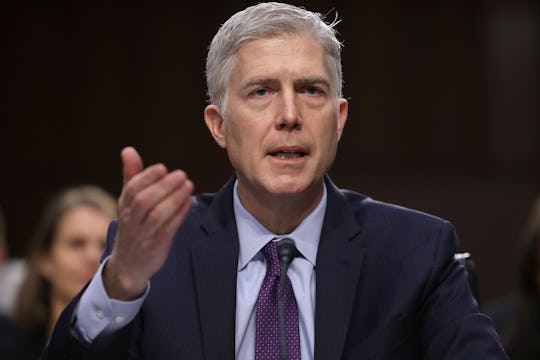 Chip Somodevilla/Getty Images News/Getty Images
Will Neil Gorsuch Overturn Roe v. Wade?
Supreme Court nominee Neil Gorsuch was questioned during his confirmation hearing before the Senate Judiciary Committee on Tuesday, and the topics ranged from abortion to gun rights and more. And some of his answers in response to questions about how he would handle cases involving Roe v. Wade are surprising people. The main question on the minds of many watching the hearing is — will Neil Gorsuch overturn Roe v. Wade if he's appointed to the Supreme Court?
In a much-discussed exchange, Gorsuch was questioned by South Carolina Sen. Lindsey Graham on whether he was asked — during his initial interview for the position by President Donald Trump — to overturn Roe v. Wade, a landmark case that involves a woman's right to an abortion. Gorsuch replied with a steady, "No, sir," according to video provided by CNN.
Graham then asked Gorsuch what he would have done if Trump had requested such a thing of him. Gorsuch replied, "Senator, I would have walked out the door."
As USA Today reported, "the 49-year-old federal appeals court judge said he rules fairly on facts and the law in each case that comes before him. Beyond that, he would not give hints about his ideological leanings, his views on past precedents or his vote on future cases."
So while Gorsuch might have seemed steadfast in his answer to Graham, it appears he limited himself to answering about that specific hypothetical situation — in which Trump would ask him to overturn the ruling — but didn't necessarily go further to totally assuage the fears many in the pro-choice community may have about him.
According to Bloomberg, "Gorsuch is what's known as a legal textualist, interpreting the law based on the words as written, not their perceived intent," similar to the late Justice Antonin Scalia, whom he called "a lion of the law." Scalia's stance on the issue, like many others, was conservative, and some are concerned Gorsuch's view of the topic will be similarly conservative.
TIME described Gorsuch's responses to other questions involving Roe v. Wade as "tight-lipped," but suggested that he wasn't especially forthcoming about other subjects discussed at the hearing either.
According to TIME, Gorsuch was asked by Senate Judiciary Committee Chairman Charles Grassley to, "discuss the case that legalized abortion nationwide." Gorsuch replied essentially that that case is Court precedent and has been reaffirmed many times, but he also gave similar answers to Grassley's queries about other cases on subjects like gun rights and campaign finance, so there's no telling what his actual views are. At some point, for example, if the Court were to rule on a state ban of late-term abortion (an issue the Court has never heard), Gorsuch would have to use his personal views to inform his opinion.
When specifically questioned again about Roe v. Wade, Gorsuch stated, "I would tell you that Roe vs. Wade, decided in 1973, is the precedent of the United States Supreme Court...all of the other factors that go into analyzing precedent have to be considered," according to The New York Times.
Graham specifically asked Gorsuch what the holding on Roe v. Wade was in a 30-second summary, eliciting some chuckles from both the nominee and others in the room because, frankly, that's a bit of a challenge. Gorsuch replied that the holding is that, "a woman has a right to an abortion."
Graham pressed him on the topic, talking about things like medical viability in video provided by C-SPAN. He suggested that legislation may come before the nominee in regards to fetal pain and medical viability. But Gorsuch said he would promise no more nor no less than reviewing the case before him, and the facts of that case in particular, when the time comes.
So the question of whether Supreme Court nominee Judge Neil Gorsuch would definitively overturn Roe v. Wade is not one that can be answered at the moment. He stated that he hasn't been specifically asked to do such a thing by President Trump, but also won't comment on the possible situation in which he might have a hand in abortion restrictions that severely limit a woman's right.
Gorsuch's hearing is expected to last more than 10 hours. If you have concerns or comments on his nomination, find out how to contact your senator here.