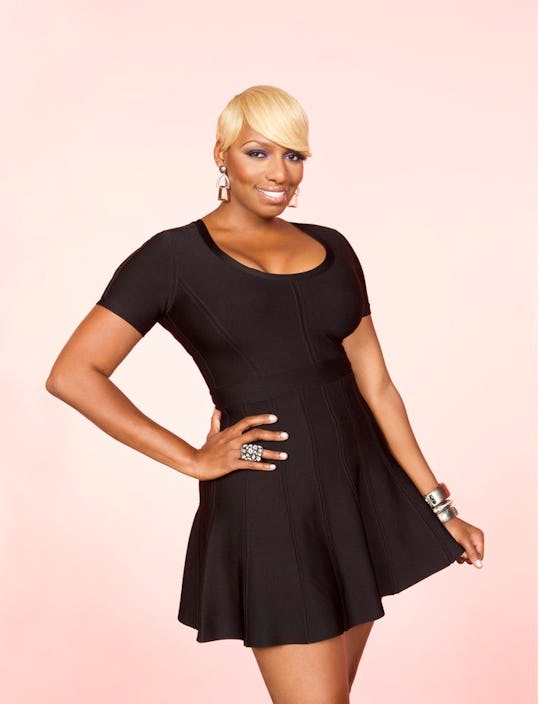 Alex Martinez/Bravo
Will NeNe Leakes Return To 'Real Housewives Of Atlanta'? She Isn't A Full-Time Cast Member
Real Housewives of Atlanta returns for its much-anticipated, window-smashing ninth season on Sunday, Nov. 6, and among the revelations generating buzz is the cast makeup. Not only will Cynthia Bailey be returning as a single Housewife, seeking to file for divorce from Peter Thomas, but Sheree Whitfield will also be returning to full-time Housewife status this season, after a five-season hiatus. While she was featured in select episodes over the past few seasons, we haven't seen Sheree full-time since Season 4. But what about Nene? Will NeNe Leakes return to Real Housewives of Atlanta for Season 9?
NeNe reportedly made $2 million per Housewives season — more than any other cast member by far. But she famously ditched her full-time cast member status last year after contract-haggling with Bravo didn't go her way. She did make appearances in a few episodes, dropping in on a group vacay, but fans may not even see that much of NeNe this time around. She wasn't included in the official cast list released earlier this year, and she confirmed via Twitter that she "wasn't asked" to be either a full-time or part-time cast member for Season 9. That may be a bad move for Bravo, considering her departure coincided with a ratings decline for RHOA.
NeNe has long since been credited by fans as a cornerstone of RHOA, without whom the show languishes. But as she became a Ryan Murphy darling, her acting career took off. She did Celebrity Apprentice, and she now has her own HSN fashion line. Whether justified or not, she wanted more money from Bravo for her continued Housewives involvement as her profile was raised higher and higher. Unfortunately, she skyrocketed straight out of the usual Housewives salary bracket and the network was unwilling to negotiate any further.
NeNe also confirmed in an Instagram comment to a fan that she hasn't taped any Housewives episodes this season — not even a passing appearance. So it's possible that we may not see NeNe at all in Season 9. Meanwhile, Cynthia Bailey, Kandi Burruss, Kenya Moore, Phaedra Parks, Porsha Williams, and Sheree are all signed on as full-timers this season and most of them still consider NeNe to be a close friend. Considering how much she loves a surprise drop-in, it's possible that NeNe may stop by an event or two while the ladies are filming to stir up trouble. Anything's possible where Bravo cameras are concerned. But as it stands right not, the odds aren't looking all that great.