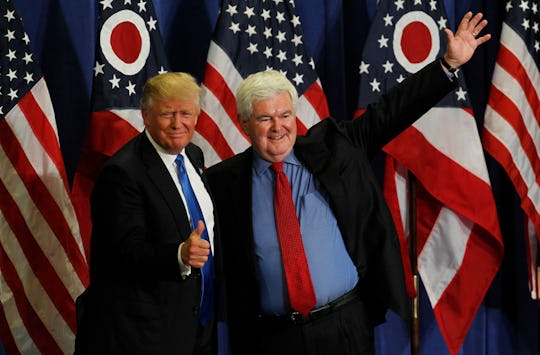 John Sommers II/Getty Images News/Getty Images
Will Newt Gingrich Be Donald Trump's Vice President? Fox News May Have Dropped A Hint
As Donald Trump vets potential vice presidential candidates, many speculate that Newt Gingrich will secure the position. Fox News perpetuated said speculation in a statement released today, in which the outlet confirmed it had "mutually agreed to suspend its contributor agreement with Former Speaker of the House Newt Gingrich effective immediately." Seeing that Fox News and Gingrich have decided to part ways begs the obvious question: Will Newt Gingrich be Donald Trump's Vice President?
Fox News attempted to explain the decision, in the same statement: "Due to the intense media speculation about Gingrich's potential selection as Donald Trump's vice presidential candidate," executive vice president of news Jay Wallace expressed, "we felt it best to halt his contributor role on the network to avoid all conflicts of interest that may arise."
The above mentioned "conflicts of interests" are, to Poynter Institute media ethicist Kelly McBride, a clash between loyalty and ambition. McBride noted in an interview with CNNMoney that Gingrich "has his loyalties to Fox and he has his loyalties to himself, to his ambitions to be veep. Those two things can't coexist."
Gingrich appeared on Fox News immediately after the announcement was made, revealing that Trump would announce his VP "either tomorrow or Thursday. Certainly no later than Friday." Though these developments appear to indicate that Gingrich has been chosen for the job, Gingrich also stated: "I have no idea who he's gonna pick." In mentioning the other candidates up for the position, he noted: "It's a little bit like The Apprentice." According to Gingrich, the two most important requirements in a VP are that they are "capable of being president," and that the VP has "chemistry" with the presidential nominee.
In an e-mail correspondence with The Washington Post, Gingrich reportedly "downplayed the significance" of this suspension, playing up the fact that the severed ties would enable him to "appear on all the networks during next week's GOP convention."
In his now-suspended capacity, Gingrich has served as a contributor to "the network's election and political coverage," also providing "analysis on domestic and international news events," according to his online Fox News bio. The last time Fox News suspended its contract with Gingrich was in May 2011. A week after this announcement, Gingrich revealed that he was running for the 2012 GOP presidential nomination.
On his Twitter today, Gingrich announced a Facebook Live Q&A to answer inquiries on "Obama and race in America."
Spokespersons for former Speaker Gingrich did not immediately return a request for comment.
This story is developing and will be updated...