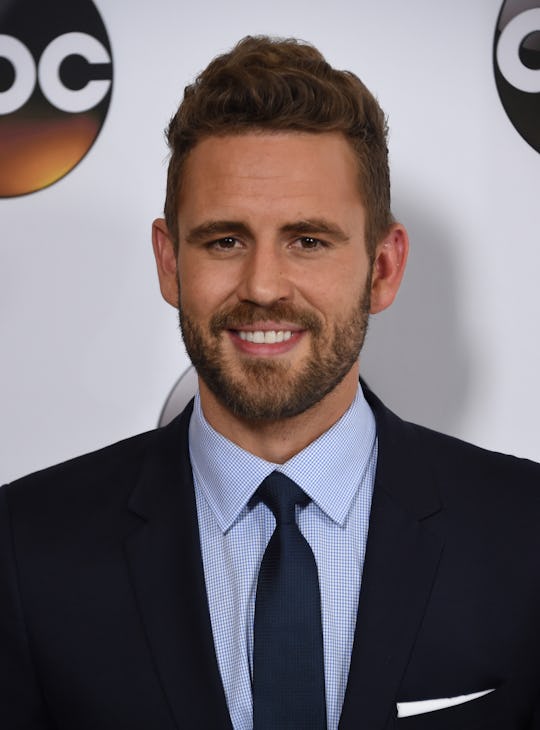 CHRIS DELMAS/AFP/Getty Images
Nick Viall Finally Answers The Question All Fans Want To Know
During Nick Viall's time in the Bachelor franchise, his narrative went through some serious changes. He's been the villain and the second choice, but a stint on Season 3 of Bachelor in Paradise left his image with a more positive spin. After earning some fan affection due to his seemingly level-headed advice-giving, he was treated to the lead spot on The Bachelor. He ended his season engaged to Vanessa Grimaldi, though the pair recently separated. But would Nick ever try to find love with the same old formula? Would Nick Viall be the Bachelor again?
It's not likely that he'll be stepping in front of the camera for the Bachelor again, which is good — fifth time's the charm isn't really a thing. After giving the same process a shot four times and still coming up single, it might be time to change the dating habits. Just subtract the millions of viewers from the equation for a start. Which is what Nick seems to be doing: he told Us Weekly that he was closing that chapter in his life. "I'm definitely done with that," he said. "I'm very thankful for everything. I don't have regrets. I don't have any regrets. There are still a lot of positive things that came from it, especially my relationship with Vanessa."
Nick has nothing but good things to say about his ex-fiancée and the Bachelor franchise in general, even though he's not going to be signing himself up for another shot at romance any time soon. In fact, his friends from the franchise have been there for him to count on during the breakup with Vanessa.
"I'm lucky enough to have friends in Bachelor Nation, like the twins and Ashley, Carly and Evan, Wells, Jared, for sure," he said to Us Weekly. "So you know, I'm lucky enough to have a handful of very close friends. And to me, it's always been important to focus on the people you're really close with. I was very thankful for a lot of people reaching out and kind of giving their best wishes to both Vanessa and I. A lot of friends from Bachelor Nation were some of those people, and we're thankful for them."
Nick also still counts Vanessa amongst his number of friends, too. In his interview with Us Weekly, he said that she was still an important part of his support system and that he loved her despite the fact that they couldn't make it work as a couple.
Nick may be done with The Bachelor (and still single), but it's clear the series has had a positive impact on him all the same.