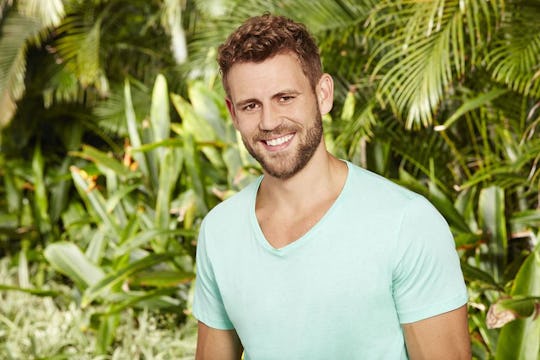 Craig Sjodin/ABC
Will Nick Viall Be The Next 'Bachelor'? He's The Unexpected Choice
Nick Viall is becoming something of a fixture in the Bachelor franchise after two close calls on The Bachelorette and a trip to Bachelor in Paradise. Despite his numerous attempts to find love and the fact that he made it to the top two twice on The Bachelorette, Nick was never successful. It's no surprise that he might be wary of relationships considering he's had his heart broken on national television more than once, but Nick valiantly keeps trying anyway. If things don't work out for him on BiP, is it possible he'll try again? Will Nick Viall be the next Bachelor?
Usually the next Bachelor is one of the castoff contestants from the most recent season, and many have been speculating that cowboy veteran Luke Pell or overly earnest Robby Hayes might be the one to take the lead spot next season. However, Nick is beginning to gain popularity as a choice amongst fans – there's even a Change.org petition rooting for him to snag the spot. It makes a fair argument, too; Nick's been through the wringer so he's got a built-in narrative and his bluntness could be an interesting change. And though Nick was considered a villain in seasons past, he's been turning things around thanks to his funny one-liners and honesty on BiP.
Nick's history of getting left in the dust for another guy is the kind of story a show like The Bachelor loves: with the right adjusting it can position Nick very sympathetically and make him easy to root for. Plus BiP has been great for his image: he's been calm about the resurgence of the Andi Dorfman drama, he hasn't been as belligerent as Josh Murray, and his frank chat with Ashley I. was incredibly refreshing, even if it didn't end up taking hold. Though he's been romancing Jen Saviano for a few days now, she's already complaining of him having a wall up and pulling away from her; if they don't end up staying together, that could be just the thing for him to "overcome" on The Bachelor.
In the past Nick made it seem like his Bach time was over that didn't end up being true; though he said he loved BiP "too much as a fan" to ever be on it, that didn't stop him from changing his mind for Season 3. Nick would definitely be the unexpected choice for the next Bachelor, but that might mean he's the right choice.