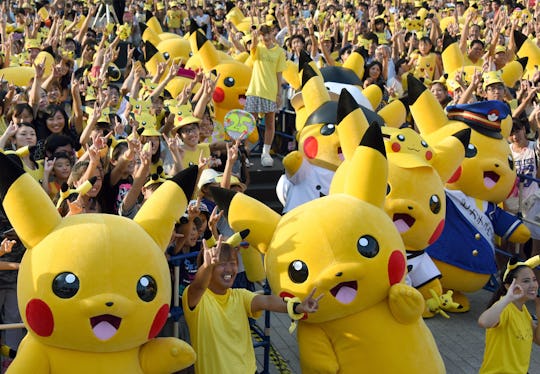 TORU YAMANAKA/AFP/Getty Images
Will Nintendo Bring The Old Pokemon Game To iPhone? Fans Really Want It
Earlier this month, the "Pokemon Go" app was released in the United States, and several countries around the world. Despite a few launch-related hiccups and development flaws, the game has been revered by many, but I'm not surprised. I mean, I don't know any kid — or 30-something-year-old — who don't want Pokedex in their pocket. But with all the renewed interest in a 20-plus-year-old series, many are wondering if Nintendo is considering something groundbreaking: could it bring the old Pokemon game to the iPhone and perhaps, like "Pokemon Go," to Android device?
Unfortunately, while Nintendo did strike up a deal with DeNA (a Japanese game-development company) last year to bring "iconic [Nintendo] game characters" to various smartphones and smart devices, it seems unlikely that old titles will be making their way into Apple's App store. In fact, according to The Huffington Post, the terms of Nintendo's deal with DeNA states the company will only be working on "original titles." This means that while Mario, Link, Samus, and Pikachu may appear in any number of mobile titles, "Super Smash Bros.," "Yoshi's Island," and "Pokemon Red" (or Blue) probably won't.
According to a press release from Nintendo, reported on by iDigital Times, "in order to create completely new game experiences for smart devices, all Nintendo IP will be eligible for development [on mobile devices] and exploration by the alliance."
And Nintendo added:
As these consumers enjoy the unique kind of gameplay found only with Nintendo, they will have the opportunity to explore even more premium experiences on Nintendo's dedicated video game platforms. Information on upcoming games and availability will be forthcoming.
However, even though Pokemon — the original Pokemon that is — may not be headed to iPhones anytime soon, the deal did bring "Pokemon Go" and, glitches aside, I love spending my lunch break hunting down Eevees, Pidgeys, and Caterpies. Yes, I'm a 32-year-old woman, and a mother, who spends her afternoons scouring the streets for Pokemon.
Furthermore, not only did the Nintendo/DeNA deal ensure fans would be getting new app-style games on phones and other smart devices, DeNA helped to develop My Nintendo, a membership based service that is accessible from Nintendo systems, computers, and mobile devices and that helps you earn points and rewards for playing games. (My Nintendo replaced the company's previous rewards system, Club Nintendo, in the summer of 2015.) And I, for one, cannot wait to see what Nintendo and DeNA dream up next.