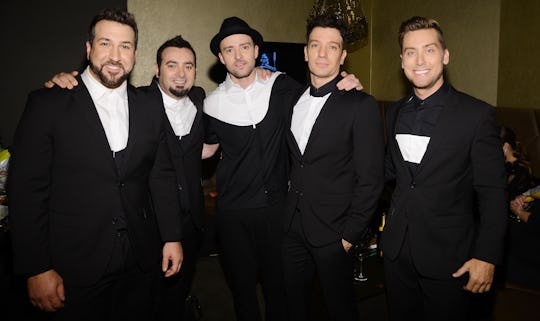 Larry Busacca/Getty Images Entertainment/Getty Images
Could *NSYNC Show Up At The Super Bowl? Fans Have Gotta Know
On Super Bowl Sunday, the nation will tune in for an impressive lineup of live music, quirky commercials, and of course, some good ol' football. Among the performers at Super Bowl LII are: Pink singing "The Star-Spangled Banner," Leslie Odom Jr. singing "America the Beautiful," and Justin Timberlake belting out for the halftime show. From the moment it was announced that JT would be performing during halftime, fans have had just one question on their minds: Will *NSYNC be at the Super Bowl? (Yes, please!) Let's take a look at what members of the boy band have said about the possibility.
If you consider *NYSNC's track record, a 2018 appearance at the Super Bowl doesn't seem entirely out of the question. After all, the popular late '90s/early 2000s boy band — which included Justin Timberlake, Joey Fatone, Lance Bass, JC Chasez, and Chris Kirkpatrick — last reunited for a performance at the MTV Video Music Awards in 2013, reported Us Weekly. And of course, they made sure to include their smash hit, "Bye, Bye, Bye" during the high-energy medley. Not to mention, *NSYNC had previously performed at the Super Bowl when the group was at the height of its popularity in 2001, according to People. Alongside Aerosmith, Britney Spears, Nelly, and Mary J. Blige, the boy band sang in an epic combined performance. Timberlake went on to sing with Janet Jackson in 2004, during which which the infamous "nip slip" went down on live TV during a choreographed dance move.
(For the record, Janet Jackson will not be returning to the Super Bowl with Timberlake this year, reported E! Online.) If you're feeling particularly nostalgic and want to relive *NSYNC's 2001 Super Bowl performance, I invite you to watch in the video, below.
So Sunday will technically be Timberlake's third appearance at a Super Bowl halftime show. However, the question remains: Can viewers hold out hope for another epic *NSYNC reunion? Back in November, JC Chasez addressed the possibility. And honestly, it seemed promising at the time. "I always keep an open mind," Chasez told Us Weekly. Which is incredibly cryptic, yes. But at the same time, it wasn't an outright "no."
However, TMZ managed to catch up with Joey Fatone about a week ago and asked the same question. "I'm here right now," Fatone said. "If I was doing something, I'd be at rehearsals right now ... there's your proof." He added, "And there's nothing wrong with that! Sh*t, he's doing his thing."
Oh, Joey Fatone. You're tearin' up my heart!
Still, fans of both JT and *NSYNC are still hoping against the odds that their favorite boy band will reunite on the Super Bowl stage this Sunday. "You know how when @Beyonce performed at the Super Bowl and Destiny's Child came out? If @NSYNC comes out during @jtimberlake performance I will die," one Twitter user wrote.
"Uhhh @jtimberlake... if you don't bring out @NSYNC during the Super Bowl we're going to have issues... I've literally been a fan since I was born," another person tweeted.
Yet another Twitter user chimed in with, "Unless Justin Timberlake's superbowl[sic] performance consists entirely of an nsync reunion along with a medley of their greatest hits the whole entire performance will be a disappointment." LOL. (But seriously.)
I have a gut feeling that *NSYNC won't be making another appearance at the Super Bowl this year — and that there are going to be a lot of seriously disappointed fans. But I have confidence, too, that JT is going to totally kill it on stage. With that said, I'm still holding out hope that our favorite boy band will rock our worlds with a surprise reunion. Because honestly, I'm still not ready to say, "bye, bye, bye" for good.
Check out Romper's new video series, Romper's Doula Diaries:
Watch full episodes of Romper's Doula Diaries on Facebook Watch.