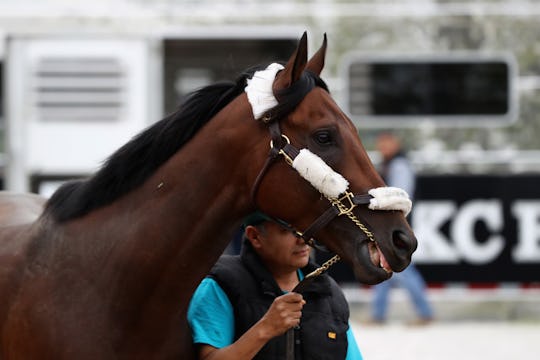 Rob Carr/Getty Images Sport/Getty Images
Will Nyquist Win The Preakness? His Record Is Perfect
Kentucky Derby's undefeated champ, Nyquist, was led into the Pimlico Race Course on May 9, just ahead of the 2016 Preakness Stakes. He was a solid bet in Louisville, but will the champion horse hold up in Baltimore? The Preakness Stakes mark the second round of the Triple Crown, and horse racing fans are wondering whether Nyquist could carry out an undefeated victory this year. Will Nyquist win the Preakness, though? He's got some sizeable competition against him, and a solid Triple Crown victory is rather rare.
Here's what Nyquist has going for him: First of all, he was trained by Doug O'Neill, the trainer behind I'll Have Another. In 2012, I'll Have Another swept both the Kentucky Derby and the Preakness, only to be pulled from the Belmont Stakes before it began due to a tendon injury. O'Neill has clearly had success with his horses, and Nyquist could bring him through the full Triple Crown.
Second, Nyquist's jockey has also seen success in the past. Mario Gutierrez was the jockey who rode I'll Have Another to victory in the Kentucky Derby and the Preakness in 2012, and he told The Toronto Sun that Nyquist is something else entirely. "I could tell the first day I worked Nyquist that he was special," he said. "It's almost like I had been driving cheap cars and, all of a sudden, I'm in a Lamborghini."
Finally, Nyquist has yet to lose a race: all eight races he's been in, he's won. The stakes are increasing with each race, of course — but Gutierrez has faith in Nyquist. "He will not allow any other horse past him," he told The New York Times. "He's the kind of horse that always has something left for whatever comes to him late."
But it's not going to be a straight shot for Nyquist and the team behind him. First of all, trainer O'Neill has been caught up in some pretty nasty business in the past. In four states over 14 years, O'Neill received more than 12 violations for improperly drugging his horses. In 2012, his horses were also twice as prone to injury or breakdown compared to the national average, according to The New York Times. (Improperly drugging your horse will usually lead to higher rates of injury.)
Probability-wise, the chances are also against a Triple Crown victory. Last year, when American Pharaoh won the Triple Crown, he was the first horse to take the title in 37 years, and there have only been 12 Triple Crown winners since the three races (the Kentucky Derby, the Preakness, and the Belmont Stakes) began in the 1870s. With a history like that, having two consecutive Triple Crown winners in two years just seems unlikely, but if history repeats itself so soon, Nyquist is definitely one of the horses favored to win.
The Preakness Stakes will take place May 21 in Baltimore, Maryland, where Nyquist and his team could cross the second hurdle on the path to a Triple Crown win.