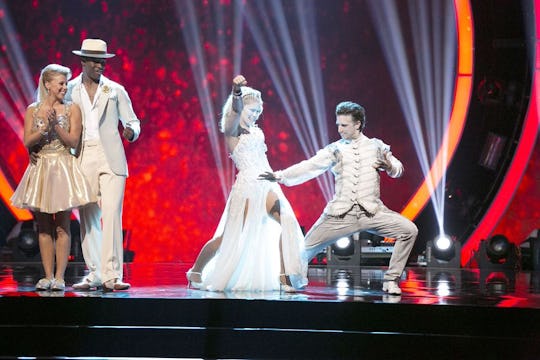 Adam Taylor/ABC
Will Paige VanZant Win 'Dancing With The Stars'? She's One Of The Best Dancers
Paige VanZant did it again on Monday's Dancing with the Stars with partner Mark Ballas. In the video package, Ballas said that he never plays it safe, and he certainly proved that this week with an ambitious Viennese Waltz to "Stone Cold" by Demi Lovato. Coming off of their incredible dance last week to "Proud Mary", which earned them a perfect 30 out of 30, VanZant and Ballas were expected to do well. Perhaps the judges' high expectations is the reason the pair earned just shy of a perfect score, with a 28 out of 30. But can Paige VanZant win Dancing with the Stars?
Early in the competition, the judges told VanZant that she was a serious contender to win the Mirror Ball trophy. Perhaps it's her athleticism, or her dedication, or maybe it's just her natural talent, but every week, Paige VanZant earns high scores for her impeccable interpretations of extremely difficult routines. Perhaps it's because she isn't as visible as some of the other stars, such as Nyle DiMarco or Ginger Zee, but while she earns great marks from the judges, she doesn't earn quite as high scores from the audience. Recently, VanZant and Ballas were one of the couples in jeopardy, despite having earned great scores for their "famous dance" routine to the Austin Powers theme song.
Perhaps it's because VanZant has become such a wonderful dancer and proven herself to have an incredible talent throughout the course of this competition, but it sometimes feels like the judges judge her more harshly than some of the other stars. Jodie Sweetin earned a perfect score for her dance, performed just before VanZant and Ballas, but (at least to a layman's eyes) still seemed to turn in a slightly less professional looking dance than what VanZant performed.
So if Paige VanZant is indeed one of the best dancers, does she have any chance to win the competition? As the pool of competitors gets smaller, she gets closer to the end, but the competition gets ever more difficult. If she's going to have a real shot at the Mirror Ball trophy, she's going to have to win over the audience first.