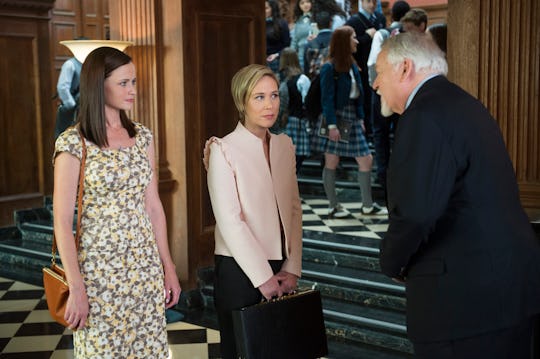 Neil Jacobs/Netflix
Will Paris Geller Return For The 'Gilmore Girls' Revival? Liza Weil Is Reprising Her Role
Gilmore Girls fans are counting down the days until the revival is released on Netflix. Thankfully, it won't be much longer until Gilmore Girls: A Year in the Life is available to stream and fans can be reunited with their favorite characters. Besides the Gilmore girls themselves, though, there's a lot of characters that fans have missed, including a particular crazy overachiever that became one of Rory's closest friends. I'm happy to report that Paris Geller is returning for the Gilmore Girls revival and it'll be interesting to see if she became the lawyer/doctor she always wanted to be.
Unfortunately, Liza Weil who plays Paris, told E! News that she'll only be in two of the four revival episodes. Still, since each episode is 90 minutes with no commercials that's still plenty of Paris to keep fans satisfied. Paris' college boyfriend, Doyle (Danny Strong), is also set to appear in the revival and fans are hoping this means the couple are still together and maybe even married. Although both Paris and Doyle had an insane level of quirks, that's kind of why they were perfect for each other. Who else would put up with Paris' level of crazy other than Doyle and who else would love Doyle's dorky ways the way that Paris does?
Since the end of Gilmore Girls, Weil has been keeping busy. She stepped into executive producer Shonda Rhimes' world back in 2009 when she appeared in an episode of Grey's Anatomy and it seems Rhimes took a liking to her. Two years later, Weil appeared on the Grey's Anatomy spin-off, Private Practice, and then a year after that she got a recurring role on the first season of Rhimes' popular political drama, Scandal. Now Weil stars on How to Get Away with Murder, which is executively produced by, you guessed it, Rhimes.
When Weil wasn't in Shondaland she also had a recurring role on Bunheads, which was co-created by the creator of Gilmore Girls, Amy Sherman-Palladino. She has also appeared in a few movies and various TV shows over the years, but to Gilmore Girls fans Weil will always be Paris. She's just one character that would be impossible to forget. (Not that I'd ever want to, of course!)
Gilmore Girls: A Year in the Life will be available to stream on Netflix beginning on Friday, Nov. 25.