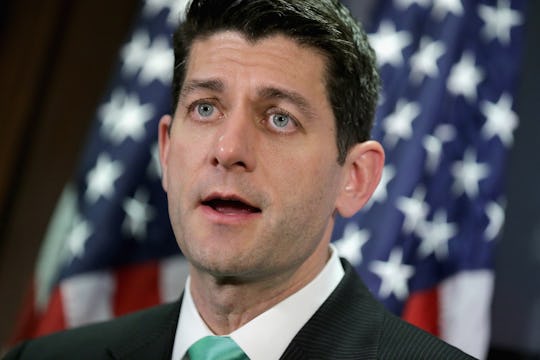 Chip Somodevilla/Getty Images News/Getty Images
Will Paul Ryan Back Hillary Clinton? He's 'Not Ready' To Support Trump
In another strange turn of events during an already unpredictable election season, House Speaker Paul Ryan, who is also chairman of this summer's Republican National Convention, said in an interview with CNN on Thursday that he is not ready to support Donald Trump, the Republican Party's likely presidential nominee. It's an odd clash, because while it would be easy to assume that Ryan would back the Republican nominee that ends up on the ballot due to his position, he often hasn't agreed with Trump and has criticized his views repeatedly whiule maintaining that he would support his party's nominee regardless. But given that Trump will almost certainly be the official GOP presidential nominee, does that mean that the hesitant Ryan will back Hillary Clinton instead?
It seems highly unlikely. Still, according to CNN, Ryan isn't ready to commit to Trump just yet. The House Speaker told CNN's Jake Tapper this week that he cannot support Trump's campaign — yet. "Well, to be perfectly candid with you, I'm just not ready to do that at this point," Ryan told CNN on Thursday. "I'm not there right now. And I hope to, though, and I want to."
Ryan has previously (and famously) said that he would support the Republican nominee, whomever he or she was, in order to maintain unity against the Democrats. But it seems he only seriously began to consider supporting Trump after Texas Sen. Ted Cruz and Ohio Gov. John Kasich were knocked out of the race following Indiana's primary on Tuesday. In Thursday's interview with CNN, Ryan said Trump needs to do some work to show a true conservative side before he'd throw his allegiance that way.
"I think what a lot of Republicans want to see is that we have a standard bearer that bears our standards," Ryan said. "There are lots of questions that conservatives, I think, are gonna want answers to, myself included. I want to be a part of this unifying process. I want to help to unify this party."
Despite his refusal to endorse Trump right now, the speaker said that his reluctance did not mean he would be supporting Democratic presidential frontrunner Hillary Clinton, should she take the nomination in the coming weeks.
"No Republican should ever consider supporting Hillary Clinton," Ryan said. "Let me make that clear."
The real estate mogul and the House Speaker have not always seen eye to eye on their political policies. Back in December for example, Trump's proposal to indefinitely ban Muslims from the United States did not sit well with Ryan. He responded that kind of move is "not who we are as a party" as well as being unconstitutional.
"This is not conservatism," Ryan said in a press conference, in a response to Trump's proposal then. "Some of our best and biggest allies in this struggle and fight against radical Islam terror are Muslims."
Ryan isn't the only prominent Republican Party figure to decline to endorse Trump — both former Presidents George W. Bush and George H.W. Bush have refused to back him as well.
To lighten this resistance within the party, it looks like Trump might have to adhere to some of the speaker's unifying recommendations to win over some of those conservative hearts. Trump may have just taken the party's nomination, but he still has a long road ahead of him before the convention.