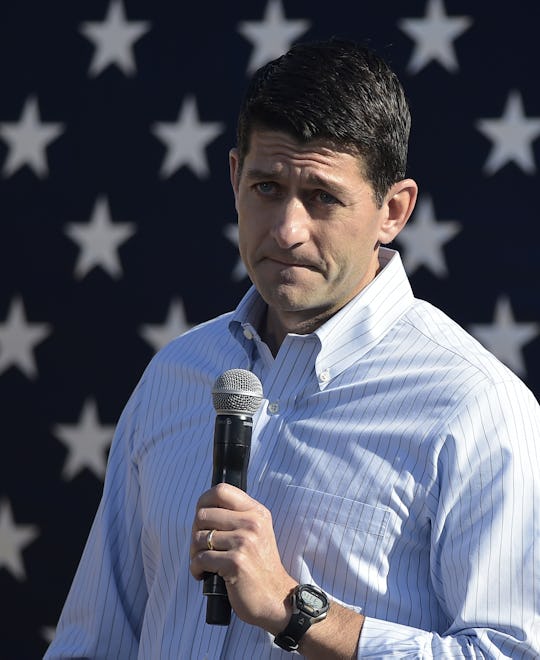 MANDEL NGAN/AFP/Getty Images
Will Paul Ryan Un-endorse Donald Trump? He's Not Happy
Donald Trump's campaign appears to be a sinking ship at this point, and many Republicans are heading for the lifeboats. But what of Paul Ryan, the Speaker of the House, who seemingly never wanted to take the Trump cruise in the first place, and kind of half-heartedly came on board because everyone else was doing it? After a disastrous couple of weeks for the Trump campaign, will Paul Ryan un-endorse Trump? He's definitely stopped defending the candidate, but at least as of now, he maintains that he won't go as far as officially rescinding his endorsement.
Ryan was notably reluctant to endorse the former reality TV star in the first place, saying he was "just not ready" to back Trump even after it became clear that the businessman would be the party's nominee. Eventually, they came to an understanding, with Ryan making an official endorsement in June, writing of Trump in an op-ed,
It's no secret that he and I have our differences. I won't pretend otherwise. And when I feel the need to, I'll continue to speak my mind. But the reality is, on the issues that make up our agenda, we have more common ground than disagreement.
But after months of Ryan having to issue condemnations of his candidate for making remarks that were the "textbook definition of racism," a leaked tape in which Trump bragged about the ease with which his fame allowed him to sexually assault women seemed to be the final straw.
Ryan said he was "sickened" by Trump's remarks on the tape, and subsequently disinvited him from a rally in Wisconsin. Then, The New York Times reported that, during a conference call with other Republicans lawmakers on Monday, Ryan said that he would no longer defend Trump's candidacy or campaign alongside him, focusing his energies instead on congressional Republican races. Furthermore, he apparently told fellow Republicans to "make individual decisions about how to handle Mr. Trump," giving them permission to join him in that lifeboat if they'd like.
It was an extraordinarily significant rebuttal. For Ryan, one of the Republican party's top representatives, to cut off support for his party's presidential candidate less than a month before the election amounts to him clearing the way for a President Hillary Clinton.
Trump was not pleased and, as always, took to Twitter (which, in case you didn't know, is a "modern-day form of communication"), saying:
Paul Ryan should spend more time on balancing the budget, jobs and illegal immigration and not waste his time on fighting Republican nominee.
According to The Guardian, when asked if Ryan would rescind his endorsement, Ryan's press secretary AshLee Strong said, "There is no update in his position at this time." But hey, there's still a month left in the election. Who knows what else might come out?