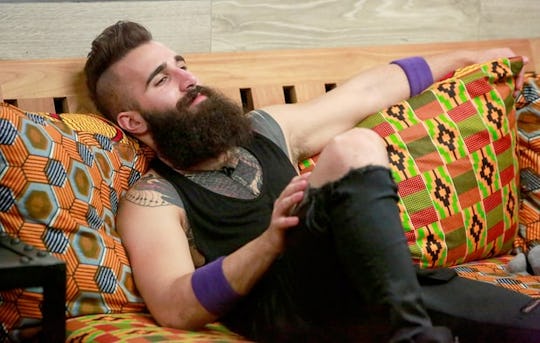 Bill Inoshita/CBS
Will Paul Win America's Favorite Player On 'Big Brother 18'? Many Fans Really Love Him
When Big Brother 18 started, I think I can speak for many fans when I say that I was sure Paul Abrahamian was a goner. Loud, over-the-top "characters" typically don't last super long on the franchise – they call too much attention to themselves, piss people off, and invariably are evicted from the house in short order. Surprisingly, the big-bearded Californian beat the odds and made it all the way to the final five, one half of a duo that managed to make it nearly all the way to the end. But will Paul win America's Favorite Player on Big Brother 18? It's certainly possible.
The award originated starting with Big Brother All Star (aka, Season 7) and until Big Brother 11, it was limited to jury members only. Starting with that season, all players became eligible to win and the winner (decided by a vote) received $25,000 – a decent enough consolation prize for a player eliminated from the running for that cool half a million.
According to CBS, voting has now ended – meaning that whomever won has already won. Now, all we can do is speculate about who will be taking home that prize prior to the official announcement during the season finale, when the winner of the $500,000 is also chosen by members of the jury.
While Paul is still in the running for the grand prize, it seems iffy that he'll actually make it to the end. Right now, he's up on the block with his best friend and closest ally in the house, the "unevictable" Victor. Though Victor, who has already been evicted and returned to the house twice, is the stated target of Head of Household Corey, there is still a vague possibility that Paul might go home over Victor.
I honestly doubt it though – it seems all but guaranteed that Victor, who is a stronger player in the comps, will go home over Paul this week. It'll be sad to see this bromance break up, but the Victor/Paul alliance made a huge error in judgment by blindly trusting Nicole and Corey and sending home Natalie, who was a MUCH weaker competitor than either of those two. Sorry, Nat-Nat.
Either way, unless there's another huge upset to the alliances or he wins the final four Head of Household competition, Paul will probably be the next victim of the Nicorey alliance. The Nicole/Corey duo has proven unstoppable ever since Nicole won Head of Household and the Power of Veto two weeks ago and effectively took control of the house. Nicorey, at last check, seemed set on taking James to the final three with them.
Paul seems to have a much better shot at winning America's Favorite than winning the actual game. He's played a (mostly) loyal game all season, sticking with Victor until the end, which is an attribute that's usually very much appreciated by viewers. Paul was also consistently hilarious, joking around all season and giving us some of the most iconic lines, hashtags (#Friendship), and moments (everything Paul did with Pablo the floatie, basically). His stint as President Zingbot's secret service was the gift that kept on giving a few weeks back – much better than Paulie's epically depressing apple pie baking that same week.
An unofficial Big Brother Network poll has Nicole in the lead for voters' favorite player as of Week 11, with James close behind, but that's sort of mind-boggling. She's played a really inconsistent game and only emerged as a frontrunner during the last two weeks. She's also been repeatedly criticized for her wishy-washy attitude when it comes to her alliances. Plus, it's becoming increasingly likely that Nicole might win it all, and I'm kind of hoping that BB fans will spread the wealth by bestowing America's Favorite Player on a non-winner.