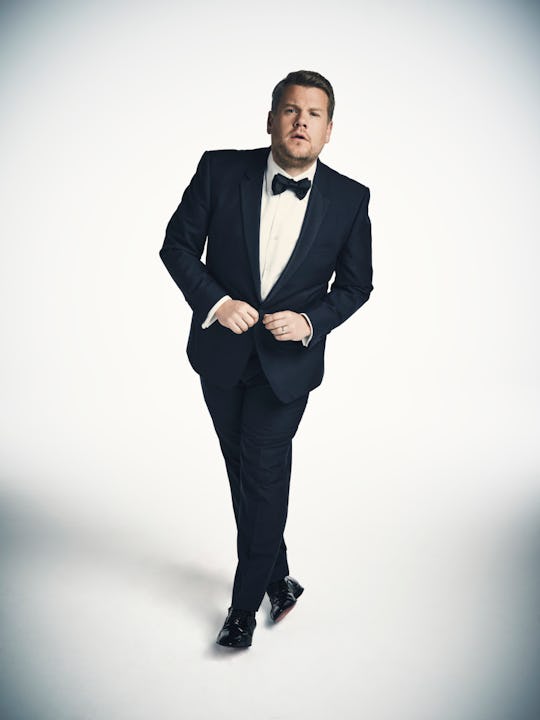 Jason Bell/CBS
Here's Why You May Not See A Lot Of Black At The Grammy Awards Red Carpet
Celebrities dressed in black to protest sexual harassment at the 2018 Golden Globes, as well as to support the Time's Up Legal Defense Fund. But is that color scheme something that will continue throughout awards season for solidarity, or was it a one time thing? Will people wear all black to the 2018 Grammys, too?
It's unclear. Some attendees may choose to wear black, but there doesn't seem to be a plan in place to make a big statement with the dress code at the Grammys. The all black ensembles didn't extend to the recent Screen Actor's Guild Awards either, where both presenters and guests wore a variety of colorful looks. It seems like that particular decision was specific to this year's Golden Globes and isn't being repeated at the various ceremonies that followed.
It's possible that in the days leading up to the Grammys a decision will be made to support the #MeToo movement with all black gowns and suits, but currently that's not the case. That could be because the Globes were intended as the launching point for Time's Up, or it could be because the Grammys honor a different sect of the entertainment industry. They're all about music, while the previous award shows were focused on movies and TV.
Many of the allegations sweeping Hollywood have focused on people who worked in film and television as well, whether it was in front of the camera or behind the scenes. That doesn't mean the music industry is without sexual misconduct allegations — far from it — but the discussion around them hasn't been quite as cohesive. The Grammys could be a good moment to draw attention to the movement and protest sexual misconduct, but there are many different ways attendees can do so. It doesn't necessarily have to revolve around wearing black.
Presenters or award winners could take a moment at the microphone to say something. Host James Corden might mention the ongoing discussion about sexual harassment in his opening monologue. People can even choose to wear Time's Up pins on their non-black ensembles, because the fund is there to support all kinds of survivors — not just those in TV and film. On the Time's Up section of the National Women's Law Center website, it reads:
"Women in Hollywood came together around their own experience of harassment and assault, and were moved by the outpouring of support and solidarity against sexual harassment from women across sectors. This inspired them to create a Fund to help survivors of sexual harassment and retaliation in all industries — especially low-income women and people of color."
The fund and the movement are here for everyone, so there's no reason why musicians at the Grammys can't show support for both. There might not be a sea of black outfits, but this is a good opportunity to make sure MeToo stays at the forefront of everyone's mind. According to Billboard, the music industry is so wide and varied that it can be difficult to regulate, but sticking together is key. They reported Atlantic Records chairman/COO Julie Greenwald saying, "We have to have each other's backs as we gain strength through our collective voice."
It seems unlikely that the ongoing discussion about sexual assault in Hollywood (and elsewhere) will go unremarked upon at the 2018 Grammys. It's such a massive and important news story right now that it deserves a mention at the very least. This year's ceremony could even end up being the start of a much-needed conversation that will continue throughout the year, giving a voice to all the victims of harassment in the music industry who felt they could not speak up before now or who were not heard. Viewers will have to wait and see.
Check out Romper's new video series, Romper's Doula Diaries:
Watch full episodes of Romper's Doula Diaries on Facebook Watch.