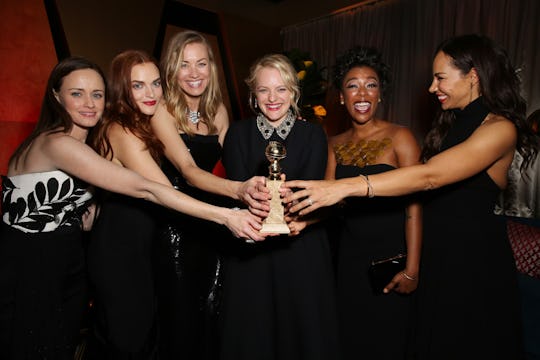 Rachel Murray/Getty Images Entertainment/Getty Images
Will People Wear All Black To The 2018 Oscars? Here's What Could Happen
It's that time again, folks — the Oscars airs on Sunday, and excitement over the biggest awards show event for the film industry is building steadily. Who will win in each of the big categories? Will there be any upsets? Of course, there's also always a chance there will there be another headline-grabbing "envelope-gate" moment, in which the wrong movie is named as the Best Picture (but hopefully that little snafu can be avoided this time around). More importantly, however, the Time's Up and #MeToo movement are still on people's minds, and whether the Oscars attendees will acknowledge them during the awards show remains to be seen. As the big night approaches, some people are wondering — will people wear all black to the 2018 Oscars? It sounds like that particular show of solidarity might not be as widespread as it was at the Golden Globes earlier in the awards show season.
You may recall that in order to "make a statement against the epidemic of sexual harassment in the entertainment industry and beyond," many actors and other attendees wore all-black outfits to the Golden Globes in January, according to People. Many men — who generally wear black suits to these shows anyway — also wore "Time's Up" pins to the event to support an initiative focusing on issues of sexual harassment, pay disparity, and discrimination in the film industry and other fields, according to TIME. But a similar statement made through fashion might not happen at the Oscars this year.
Two people involved with the Time's Up effort who spoke anonymously with The New York Times said on Wednesday that the campaign has decided not to ask stars to wear black to the Oscars. Attendees deciding to wear a Time's Up pin "would be appreciated," however. And there apparently isn't a "coordinated effort" for actresses in attendance to bring activists as their guests either, like many did at the Golden Globes.
The focus seems to be more on the "entertaining" aspect of this particular awards show rather than any sort of wider activist cause. One of the lead producers of the Academy Awards, Jennifer Todd, told the Times:
We want to make it as entertaining as possible — reverential and respectful but also fun and emotional.
The Oscars should be a spectacle. Fun and funny and great performances.
The statement seems to suggest that the show can't be "fun and funny" while also calling out problematic behavior in the very industry attendees and the Academy of Motion Picture Arts and Sciences are celebrating.
By comparison, female nominees and guests attending this year's British Academy Film and Television Arts Awards (AKA the BAFTAs) were encouraged to wear black to the event in solidarity with their peers in the United States, according to Deadline. A letter, sent "on behalf of a collective of UK based female film and television industry leaders," circulated and invited attendees to participate in the act of solidarity.
So it's not like the idea of wearing all black to these awards shows completely died out after the Golden Globes. It's unfortunate that it sounds like a similar show of support isn't being encouraged at this year's Oscars.
However, the Time's Up campaign is reportedly in discussions with the Academy about doing an in-show presence at the Oscars instead, so the movement may not be totally ignored, according to Cosmopolitan. And just because there isn't a huge effort to get as many attendees as possible to wear black, that doesn't mean that many of them won't still do it. There could still be a fair number of women in black dresses or other ensembles, and any number of male guests could be sporting Time's Up pins on whatever suit they happen to don for this year's Academy Awards.
So the short answer is — there's a chance that not as many people will wear all black to the Oscars the way so many stars and industry professionals did for the Golden Globes back in January. But don't count the Time's Up and #MeToo movements out just yet — your favorite actor might still show up in a black dress or topical t-shirt supporting the movements, with or without a coordinated show of solidarity.
Check out Romper's new video series, Romper's Doula Diaries:
Watch full episodes of Romper's Doula Diaries on Facebook Watch.