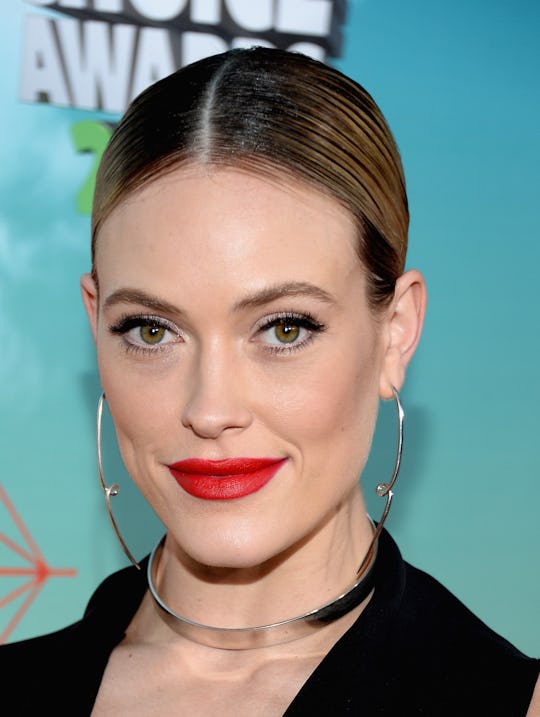 Frazer Harrison/Getty
Will Peta Murgatroyd Return To 'DWTS' After Having Her Baby? She's Going To Be Busy
Adorable dancing couple Peta Murgatroyd and Maks Chmerkovskiy of Dancing With the Stars are expecting a baby in December to be closely followed by a wedding the following June. We already know that Maks is not going to be participating in Season 24 of the show, but will Peta return to Dancing With the Stars after having her baby? We're all desperate to know, as she's a fan favorite, but so far there has been no word one way or the other.
In an interview with Bravo's The Daily Dish, Maks revealed some heartbreaking news. He has "zero interest" in returning to Dancing With the Stars for the next season. He will be way too busy with a newborn kid. He told the blog, "Trust me, I really don't care how this comes across, but there's no money on the planet that can replace me missing out the three, four, five months of my baby's life," which is basically the cutest thing ever. Except, of course, for this quote: "I can't wait for Peta to pursue her goals and whatever and I just want to be a stay-at-home dad." Be still my heart. So clearly Maks doesn't want to go back on the show, but does Peta?
She hasn't been quite as clear on this point as her fiancé has, but I'd be surprised if she's ready to jump right back into the ballroom mere weeks after giving birth and in the midst of planning a wedding. Call me crazy, but I don't think we'll be seeing Peta on Season 24 of the show either. That being said, it's not unlikely that she will make an eventual return, perhaps a year from now after sitting just two seasons out. Maks said that he wanted to be a stay-at-home dad, but he also said that he's looking forward to encouraging Peta in her goals. This implies, at the very least, that Peta doesn't plan on being a stay-at-home mom.
As an extremely talented and highly visible professional dancer, Peta can go basically anywhere she wants in her career, and is certainly not tied down to Dancing With the Stars for the rest of her life. Perhaps she'll choose to return to the show in the future. Or perhaps she'll go on to do something else, maybe a Broadway career like her colleague Derek Hough. Whatever she does in the future, she's got one thing on her mind right now, and that's enough.