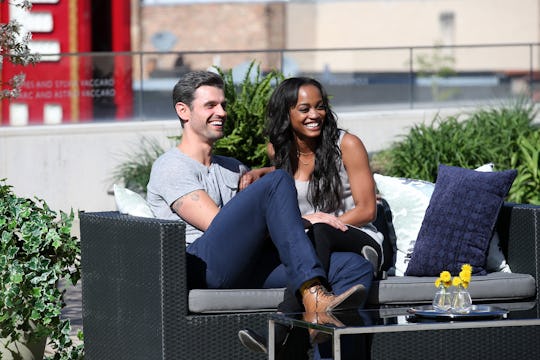 George Burns/ABC
Peter's Time On Television May Be Far From Over, 'Bachelorette' Fans
Peter stole the hearts of Bachelor Nation from the moment he bonded with Rachel over their matching tooth gaps, instantly becoming a fan favorite. Pretty soon Rachel will reveal which of the final three guys she chose as her fiancé and it's looking more and more possible that despite fans' objections, Bryan will probably be the one to receive the final rose. The only solace I can provide is that it leaves a whole world of opportunity open for Peter. Will he be the next Bachelor? Maybe! Will Peter be on Bachelor in Paradise? Also maybe!
Nothing is set in stone yet, and Peter's name isn't even being touted around as a potential Bachelor in Paradise contestant, but I would chalk that up to producers wanting people to believe that he is still a contender for Rachel's heart right up until the moment she says otherwise.
While the cast seems like it might be set in stone, it's entirely possible that Peter's already been casted and production simply hasn't revealed it yet. It was announced that Dean would join the cast shortly after his elimination, so maybe the news that Peter will also be heading to Paradise is just around the corner? Seeing as Peter and Dean have remained the best of friends after the show, Peter's casting would double as a reunion of Bachelor Nation's favorite (and most adorable) bromance.
"We shared clothes, we shared a bed, we even shared a girlfriend for a period of time, which I'm still not really sure how I'm supposed to feel about," Peter wrote in the caption of a picture he Instagrammed after Rachel broke up with Dean. "But above all that, we shared one of the best friendships of this life time."
Fun as the idea of a Peter/Dean reunion might sound, plenty of fans would really like to see Peter as the next Bachelor.
There's no saying Peter wouldn't possibly be able to do both, but in the event he does find love on Bachelor in Paradise, he most likely wouldn't be jumping at the chance to start dating again. Anything can happen, though!
The recent BiP sexual assault controversy involving DeMario and Corinne is still fresh in people's minds (though the investigation concluded that there was no evidence of wrongdoing), so Peter might just provide them with the good press they really sort of need right now. They already locked down Dean, and everyone knows that the only thing better than one fan favorite is two fan favorites.