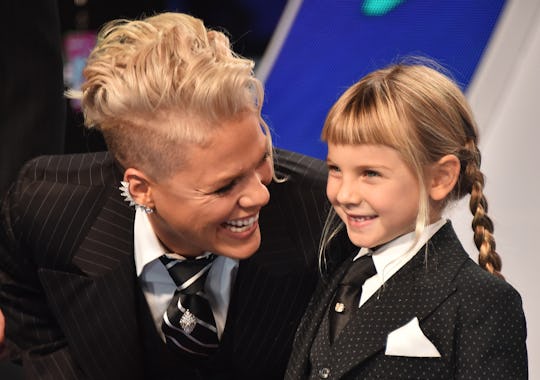 Frazer Harrison/Getty Images Entertainment/Getty Images
Could Pink's Daughter, Willow, Also Make An Appearance At The 2018 Grammys?
Pink — you know everyone's favorite bad*ss mom? — nabbed a major nomination at the 2018 Grammy Awards because her talent is undeniable. It's a big night for the "What About Us" singer, so one has to wonder who will be her lucky plus one on Sunday night. Will Pink bring her daughter to the 2018 Grammys, like she's previously done at other recent award shows? Fans certainly hope the dynamic mother-daughter duo will walk the red carpet together, but little Willow's attendance is still up in the air.
Pink is nominated for one Grammy award this year, according to Variety, for Best Pop Solo Performance for her hit single "What About Us." Additionally, she is also slated to perform during the night's ceremony, according to CBS News, although it's unclear what exactly she'll be singing. It's a big night for her, but really, after Pink's heartfelt speech at the 2017 MTV Video Music Awards, fans are kind of hoping for another dose of inspiration with Willow in the audience.
After all, when she won the MTV Video Vanguard Award last year, her dedication to Willow was seriously one of the sweetest things, and I'm being completely serious when I say that I cried for a solid five minutes after she was done talking. Pink is a bad*ss and her unabashed and totally bold love for her kids is just empowering to witness.
However, whether Pink will bring 6-year-old Willow to Sunday night's Grammy Awards has not been confirmed. Although fans can almost definitely expect the 38-year-old singer to be there herself, she hasn't mentioned whether or not her daughter will be joining her. Of course, as much as fans would love to see Willow on their television screens again, it would be totally understandable if the three-time Grammy winner decided to leave her at home with her baby brother son, Jameson Moon Heart and she hit the red carpet with her husband, Carey Hart. The Grammys are a long night, full of adults talking... Willow might be more amused playing with Jameson while watching mom on TV.
Also, considering the fact that she's reportedly performing on Sunday night, she might decide to let Willow sit this one out since she might be not even get to spend too much time with her while she's preparing and then when she's actually on stage. Until Pink arrives at the red carpet (or shares a photo of herself getting ready), Willow's RSVP is still unconfirmed.
However, what's for sure is that Pink didn't bring Willow to the 2017 Grammys. So if she did indeed bring Willow along this year, it would be a pleasant surprise. Pink was nominated for two awards at the 2017 Grammys, according to Billboard, and unfortunately didn't win either. But she's only up for one nomination this year, so there's really no telling whether or not she'll decide to bring along Willow. When she brought her to the VMAs, she knew she was receiving a special accolade, so that might have had a lot to do with her decision-making.
One thing is clear, though. No matter what happens Sunday night, Pink will be cool with it. A week ago, she shared an image on Instagram of a voting poll deciding whether or not she would take home the Grammy for Best Pop Solo Performance, and let's just say, she knows how to laugh at herself.
No matter what happens Sunday night, Pink will probably still have a great time, whether Willow is in the audience at the Grammys with her or snug at home watching her mom do her thing with baby Jameson by her side.
Check out Romper's new video series, Romper's Doula Diaries:
Watch full episodes of Romper's Doula Diaries on Facebook Watch.