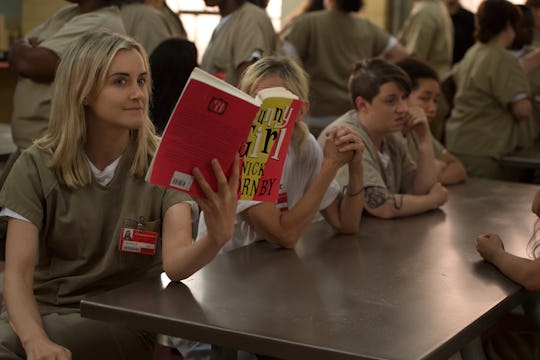 JoJo Whilden/Netflix
Will Piper & Alex Get Together On 'Orange Is The New Black' Season 5? You Never Know
(Warning: This post contains spoilers from Orange Is the New Black Season 4, Episode 13.) Love is, weirdly, in the air at Litchfield. After an upsetting turn of events caused the inmates to riot against the guards, and Poussey's unfortunate death, it is about time that some good news comes out of Litchfield Correctional Camp. And that good news might just be the relationship between Alex and Piper on Orange Is the New Black. Well, maybe this relationship isn't entirely good news, because some people — most inside Litchfield — can't stand Piper. But, both women deserve to be happy, so could it mean that that happiness is meant to be spent together?
During the final episodes of Season 4, Alex and Piper grew closer, again, after being relatively separated throughout the season. To be fair, they both had their own "things" going on. Alex had killed a man, then chopped him up and buried him in the garden, while Piper was trying to be the Queen Bee of Litchfield, thanks to her panty-sales ring. Unfortunately for both of them, things resulted in a) threatening legal woes, or b) getting a Swastika burned into your skin. (The latter being Piper, obviously.)
But, at the end of the season, Piper and Alex had their own intimate moments in the Time Travel Machine that Lolly loved so much, while also serving up a little PDA at the dinner table. Basically, they didn't end the season on opposite teams (or dead), so I'd take that as a win for those that ship the two together.
I hope that these two find happiness, and if that's with each other, then so be it. Sometimes the strangest things bring people together, so perhaps all of the wild and crazy things that they've been through will lead them to a mutual respect and love for the other. Or, maybe they'll just start caring about themselves again, and all of this won't even matter.