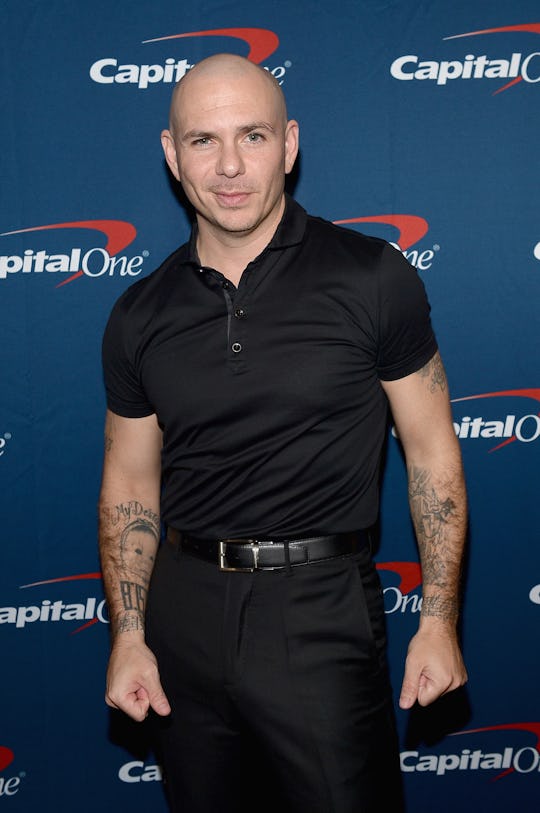 Gustavo Caballero/Getty Images Entertainment/Getty Images
Will Pitbull Judge On 'Dancing With The Stars' Season 23? He's Playing Coy
He ain't messing around. On the Season 22 finale of Dancing with the Stars, Mr. Worldwide, was questioned about what his future involvement in the show would be, and though he didn't reveal anything too telling, fans may be wondering if Pitbull will be a judge on Dancing with the Stars Season 23. So, could this actually be a thing, or was Erin Andrews just teasing something just for the hell of it? Well, according to Mr. 305, he's "always judging."
After performing his new single "Messin' Around," Erin Andrews questioned the pop singer in whether or not he would return to the dance floor, but in a judging role next season. Specifically a judging role next to Len Goodman. That's a role, next to Len, behind the judges' table. So, is Pitbull actually going to be a judge on Dancing with the Stars, or is this just one elaborate ruse to get fans hyped about the fall season?
Pitbull certainly didn't want to commit on the stage with Erin Andrews, but his comments and her question were enough to get fans talking about a potential new judge to the show. You can't just suggest something like that and not expect there to be some chatter.
But, will Pitbull be a forever judge or will he just be a guest judge? That's still up in the air, but it would certainly be interesting if he took on a full-time role. Chances are that Mr. Worldwide is too busy being Worldwide to be a full-time Dancing with the Stars judge, but there's only one way to tell!
I don't know if Pitbull knew that question was coming at him, or if Erin Andrews just off-the-cuff came up with that question, but he certainly didn't have a clear answer. I'd like to think Pitbull was just being mysterious and will be joining the judges. But, we'll have to wait and see when the show returns in the fall.