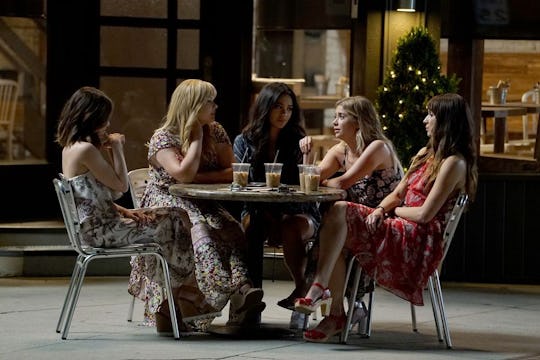 Eric McCandless/Freeform
'Pretty Little Liars' Could Still Return In Some Way
It's always hard to say goodbye to your favorite TV series, especially when the show's mysteries have been keeping you up at night for seven seasons. Pretty Little Liars has kept fans on the edge of their seats for years, but now it's all coming to end. Or is it? These days it looks like shows never really end. Whether they're picked up by a streaming service or just given a second chance, sometimes a series finale is less of a goodbye and more of a see you later. So will Pretty Little Liars ever return? Fans certainly hope so.
So far nothing official has been said about how PLL could continue in the future, but there has been talk about a potential movie. Sasha Pieterse, who plays Alison DiLaurentis, told The Hollywood Reporter at the Freeform upfronts, she'd definitely be interested in doing a Pretty Little Liars movie and reuniting with the cast. Show creator I. Marlene King has also mentioned the potential for a possible revival during the Television Critics Association winter press tour earlier this year. "We'll find a way to bring these characters and this world back together at some point in time," King told reporters. "I don't think it will be in two years, but at some point in time. I hope so."
Additionally, Shay Mitchell, who plays Emily Fields on the series, said she'd also be down to do a movie similar to what the Sex and the City franchise did. "It would absolutely be nice to see the PLLs again in five years," she said at the Freeform upfronts.
At the same time, Troian Bellisario stated at the upfronts that she believes the movie should only happen if it makes sense. "We joke around about it being like SATC, 'Let's just put the PLLs in Dubai and see what happens!' But, how would you bring them back together?" she questioned. "Once this mystery is done, it all depends on what the story would be." Even so, Bellisario would still be happy for any opportunity to bring the cast back together again.
Hopefully, if there is a PLL movie it'll be just as intriguing as the series fans have grown to love and obsess over. Though I wouldn't want the movie to introduce yet another A-like figure. How many tormentors live in Rosewood anyway?
Whether or not there's more Pretty Little Liars in the future, the show has had a great run and it will certainly be missed.