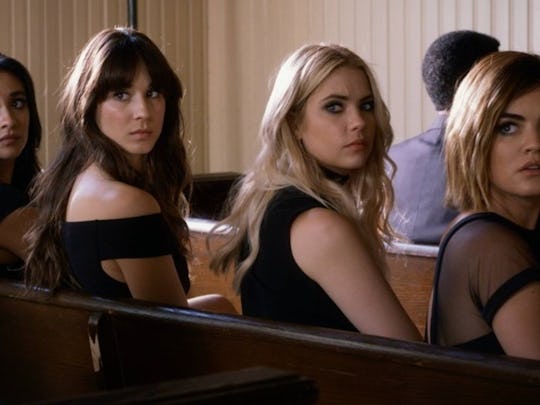 Freeform
Will 'Pretty Little Liars' Reveal A's Murderer? The Second Half Of Season 6 Is Going To Be A Twisted One
Things are never calm in Rosewood. After finally discovering A's true identity, the Pretty Little Liar's mid-season finale revealed that she had been murdered. So will we find out who murdered A on PLL this season? Don't get too stoked: It's not likely PLL nation is going to learn anything new, anytime soon. Even the cast members are in the dark. Shay Mitchell, who plays Emily, told E! recently that even they had to keep guessing, but that she had a "couple of ideas [she'd] tossed around."
Going into the second half of season six, Mitchell said she thinks — thinks — that maybe this season will revolve on around a big reveal in the finale about who the murderer is. For the time being, all the Liars are stuck in their hometown and the vibe has definitely changed. Troian Bellisario, who plays Spencer, explained to the network that "it [was] no longer about 'I'm going to expose some secret that you have,'" but "paranoia ... blackmail, [and] a life-threatening situation."
Showrunner Marlene King said in the same interview that the case wasn't going to be straightforward (and who wants it to be straightforward, anyway?). She said that the whole season is going to be very "twisty turvy." Of course, the Liars have zero chill. Finding out who murdered A is going to be excruciating.
Say goodbye to your life this winter. Or maybe even longer, if past PLL plot lines are examples of what's in store.
While some fans are sort of into the newest twist and 5-year jump ahead, more than a few are justifiably a little bummed. Once you're in, you're in.
It's hard to be obsessed with a show that starts to give you something that you can actually believe in and then starts to make no sense once again. PLL writers had better take note: Let's figure out who killed A and get on with it already.
Image: Freeform screengrab