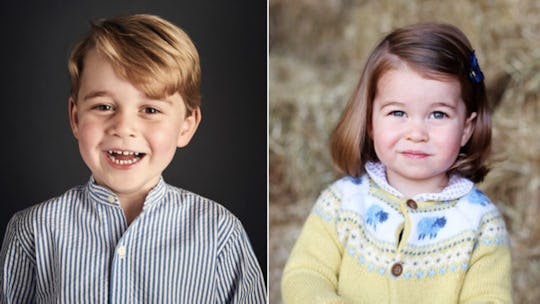 Handout/Getty Images Entertainment/Getty Images
Why Prince George & Princess Charlotte Probably Won't Visit America Anytime Soon
The monarchy may belong to the United Kingdom, but obsession over the royal family is a worldwide phenomenon. Whether it's their weddings, their kids, their fashion or their charming diplomacy, there's so much to love about Prince William and Kate Middleton's little brood. That's why many fans across the pond may be wondering: Will Prince George and Princess Charlotte ever visit America? Though the royal kids don't travel often, it's not a complete impossibility.
The last time Prince George and Princess Charlotte crossed the seas was back in 2016. Harper's Bazaar reported that the family visited Canada in September of that year, as they embarked on family and nature-related adventures. "The Duke and Duchess are delighted to be returning to Canada. They hold very happy memories from their visit in 2011— their first overseas tour as a married couple," a representative for Kensington Palace told Us Weekly at the time. "They are really looking forward to seeing other parts of this beautiful country and having the opportunity to meet many more Canadians along the way."
Though Harper's Bazaar reported that part of the trip to Canada was to visit with Prime Minister Justin Trudeau, it's clear that another incentive was to take a trip with their kids. All of it begs the question of whether or not the family would consider doing the same to meet with President Donald Trump, or if they'd ever want to show the royal babes the wonders of our version of a castle in DisneyWorld.
CBS News reported that the last time the royals were in the United States. was back in 2014, and it was just Prince William and Duchess Kate that time. During their visit, they sat with Beyoncé and JAY-Z for an NBA game between the Cleveland Cavaliers and Brooklyn Nets at the Barclays Center in Brooklyn (because of course they did, super casual), according to CBS News. But as of now, there are no known plans for the family to return to the United States, and one could assume that the chances are even more slim now that they have another new baby to take care of, little Prince Louis.
On top of it all, there's one more wrench added into the mix, too: flying protocol. AOL reported that in 2017, Prince William broke one of the most essential rules of royal travel when he, Prince George and Princess Charlotte were all on the same flight. The Sun reported that heirs to the royal throne cannot travel together, in case there's an accident. However, a spokesperson for the royal family told the BBC that Prince William did in fact get permission for that trip: "While there is no official rule on this, and royal heirs have travelled together in the past, it is something that the Queen has the final say on," they told the BBC.
That means that if the Queen were to deem it unsafe for more than one heir to be on a flight at the same time, Prince William, Prince George, Prince Charlotte and Prince Louis would all need to take separate planes to the United States, which seems, uh, inconveniencing to say the least.
So though its not entirely impossible that the royal kids could one day visit America, it's probably not likely... at least, not for a while. Technicalities and rules aside, part of their royal duties will most likely include traveling around the world and meeting with different world leaders and the public (as their parents, Prince William and Duchess Kate, do now) so U.S. fans of the royal fam might have to just wait until their old enough to do a press tour or political meeting on their own. Until then, photos of Prince George and Princess Charlotte being absolutely adorable from afar will have to suffice.