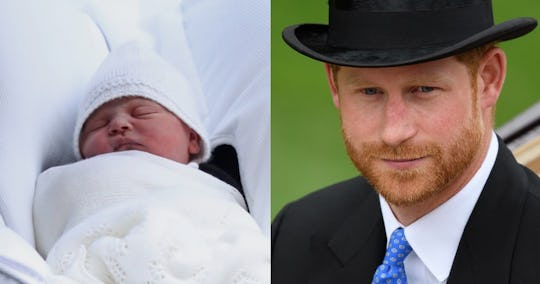 Chris Jackson/Getty Images Entertainment/Getty Images/ Leon Neal/Getty Images Entertainment/Getty Images
Prince Harry Probably Won't Be Prince Louis' Godfather — Here's Why
The royal family has been pretty busy lately. Between more than one wedding this summer, birthday celebrations, and the birth of another heir to the throne, they've had a lot going on. Next on the agenda? Kate Middleton and Prince William's third child, Prince Louis, is expected to be christened this summer, should they follow prior christening timelines with their other two children, Prince George and Princess Charlotte. With this event lingering in the back of everyone's minds, it's only fair to wonder who will get the honor of being the little royal's godparents and if, for example, Prince Harry will be Prince Louis' godfather.
Unfortunately, it's not the easiest question to answer since there are still so many uncertainties about the upcoming religious ceremony. In fact, it's likely that the public won't know who has been chosen to be Prince Louis' godparents until after his christening, the date of which has also not been announced yet. However, as Express reported, the christening is expected to take place sometime in July, based on when the two christenings of the older royal children took place, according to Hello! Magazine.
As a refresher, Princess Charlotte was born on May 2, 2015, according to the official royal website, and she wasn't christened until July 5, 2015. So, it was just a little over two months that little Charlotte had to wait until making her next public reappearance. As for Prince George, he was christened on Oct. 23, 2013, according to CNN, which was about three months after his July birthday.
Since Prince Louis was born on April 23, which was less than two months ago, his christening could possibly take place in July or perhaps August.
But aside from when the new royal's christening could take place, fans of the royal family are likely wondering who Prince Louis' godparents will be. As it stands, Prince William and Middleton traditionally haven't picked just one godmother and godfather for their children. For example, Prince George has seven godparents, and Princess Charlotte has five godparents, according to the royal family's website. However, none of those godparents are Prince Harry. But considering that one of Princess Charlotte's godparents, Laura Fellowes, is Prince William's first cousin (aka a blood relative), it seems to indicate family members are certainly in the running. However, it is unlikely that Prince Harry will make the cut.
According to a royal expert who spoke to ELLE after Middleton's pregnancy was first announced in November 2017, it's pretty unlikely that the Prince Louis' uncle will be his godparent.
Why? It seems as though Prince William and Middleton both seem to value close friends when it comes to godparents. According to Richard Fitzwilliams, who spoke to ELLE, the "emphasis could be firmly be on their close friends," regarding the godparent decision. So while Prince Harry is most likely out of the godparent running, all is not lost. After all, Prince Harry has the honor of being an uncle three times over, which means he has plenty of responsibility when it comes to the royal kids. And really, being the fun uncle is kind of the best you could ask for.
However, now that Prince Harry is married to his new wife, Meghan Markle, it's also fair to wonder if Prince William and Middleton might choose the new Duchess of Sussex as a godparent. According to The Sun, an anonymous source revealed that Middleton was reportedly considering naming Markle as a godmother, as the two have reportedly become quite close. "They've already formed a strong sisterly bond, and it's Kate's way of showing how close they've become," the source reportedly told The Sun. Of course, as with anonymous sources, that's just speculation and should be taken with a grain of salt.
But even if Prince Harry isn't named a godfather, and Markle isn't named a godmother, they'll more than likely be pretty involved in Prince Louis' life. That's the bond of family, y'all.