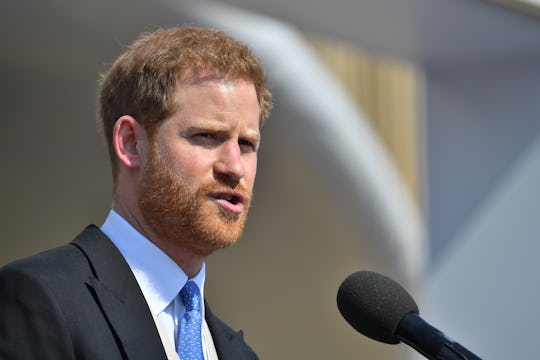 WPA Pool/Getty Images Entertainment/Getty Images
Here's Why Prince Harry May Never Become King
When Prince Harry married Meghan Markle last month, all eyes were on the royal wedding. People couldn't help but be envious of the prince and how stunning their whole wedding day was. But looking back on it and how massive the affair was, surely some people must have been wondering if Prince Harry will ever get to be the King of the United Kingdom. After all, he does have the honor of having the title of prince before his name.
To put it bluntly, a very big tragedy would have to happen before Prince Harry would ever get to see the throne or be crowned "King Harry." And there is a reason why — Prince Harry's family is unlike many, many others. His grandmother is Queen Elizabeth II, also known as the Queen of the United Kingdom — a title passed down through birth. When the queen gave birth to her first child and Prince Harry's dad, Prince Charles in 1948, he was bestowed the fate of being a future King of the United Kingdom, according to People. This is all due to succession, the premise that the current sovereign (also known as the person who sits on the royal throne) of the country would pass down the title of "sovereign" to the family member next in line — their firstborn child, according to the website of the royal family.
Because Prince Harry's brother, Prince William, was born first, it made Prince William second in line for the throne, next to their dad, Prince Charles, according to TIME. When Prince Harry was born in 1984, two years after his older brother, he became third in line for the throne at the time, according to People.
Prince Harry's title was given to him because of his birth; he was lucky enough to be born to the queen's oldest son. But he still had a slight chance of becoming king at the time of his birth if his father or brother weren't able to fulfill their role or had to retire. But even in his birth announcement, People reported that it was "unlikely" that Prince Harry would ever rule the Kingdom. So just because he was born to the future king doesn't mean that Prince Harry ever had his sights set on the throne.
Once Prince William and his wife, Kate Middleton, welcomed their first child in 2013, that pretty much eliminated Prince Harry's chance of ever becoming king one day. As Prince William's firstborn child, Prince George moved to third in line to the throne and bumped Prince Harry down. When Middleton gave birth to their daughter, Princess Charlotte, in 2015 and their third child, Prince Louis, this year, this further made it clear that Prince Harry's chance of ever being king were slim to non. Prince Louis' birth made Prince Harry become sixth in line for the throne, according to the Sun. This means that five other people would have to be incapable of fulfilling their role, due to things like illness or retirement, in order for Prince Harry to become king, according to Express.
Up until 2013, men born to the next in line took precedent, but the queen changed that with the Succession to the Crown Act in 2013 right before Prince George was born, as the BBC explained. This change in rule allowed Princess Charlotte to take precedent over Prince Harry in the royal succession, bumping him down another notch.
Although it might be fun for some royal watchers to see the redhead at the helm of the throne, they shouldn't get their hopes up. Considering that there are so many more people ahead of him, it's just not likely that he will ever see the day where he becomes king.