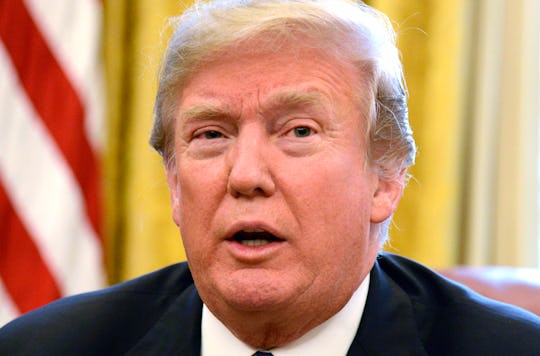 Pool/Getty Images News/Getty Images
Trump Addresses Whether He'll Attend The Royal Wedding With The Most Awkward Statement
With the royal wedding drawing closer every day, speculation has already started about which famous faces will be in attendance. Chief among them, considering both political formalities and the royal family's close ties to former President Obama, is whether today's POTUS will be present at the nuptials. So will Prince Harry invite President Trump to his wedding with Meghan Markle? Trump finally addressed the issue in an interview, and his comments were, um, awkward.
This could change, but for now it appears no invitations have been sent. In a recent interview for ITV, Piers Morgan asked Trump whether he'd been invited to the royal wedding, according to the BBC, to which Trump responded: "Not that I know of."
Asked whether he would like to attend, Trump gave a neutral answer. "I want them to be happy, I really want them to be happy," he said. "They look like a lovely couple."
Awkward. At the same time, however, there hasn't been talk of any other invitations having been issued, either, so it's impossible to know whether an invitation (or a save the date) is headed to the White House. Royal biographer Duncan Larcombe told Town and Country on Monday that "Trump should possibly put a little pencil mark in his diary, but not hold his breath."
Another thing to consider, of course, is the fact that Markle — like many women in Hollywood — has spoken out against Trump in the past. In 2016, before the election, Markle told The Nightly Show that the prospect of a Trump presidency was enough to make her consider moving to Canada. (And hey, I guess she's making the move to the United Kingdom, so I suppose that prediction was slightly correct, right?)
"I mean, come on," she said at the time. "If that's really the reality that we are talking about, come on, that is really a game changer in terms of how we move in the world here."
She continued:
Of course Trump is divisive. Think about just female voters alone. ... With as misogynistic as Trump is — and so vocal about it — that's a huge chunk of it. ... Trump has made it easy to see that you don't really want that kind of world that he's painting for us.
Morgan even brought up Markle's past comments about Trump during their interview, according to Global News, and Trump replied, "Well, I still hope they're happy."
Prince Harry could explain a possible Trump invitation snub on the basis that "he's only inviting people he knows," Larcombe told Town and Country. Having not met Trump in person, that would be understandable. However, Larcombe told Town and Country that inviting Obama while excluding Trump could be problematic regardless:
If the Obamas turned up and Donald Trump was snubbed, then that would cause problems for the British government in terms of foreign diplomacy and the special relationship [between the U.S. and the U.K]. Harry and Meghan wouldn't want their wedding overshadowed by that.
In late December, Prince Harry sidestepped a question regarding whether the Obamas would be invited to the wedding during an interview with the BBC. "We haven't put the invites or the guest list together yet," he said, according to CNN.
Either way, Prince Harry and Markle are expected to have a smaller wedding than Prince William and Kate Middleton did in 2011. The pair will be marrying at St. George's Chapel at Windsor Castle, which only holds 800 people — compared to the 2,000-person capacity of Westminster Abbey, where Prince William and Middleton held their nuptials, according to People.
I guess deciding on wedding invitations, at least, is one area where we commoners have it way easier than the royals. I mean we might offend a great-aunt or an old college friend accidentally, but most people don't need to worry about international diplomacy when they choose their wedding guests.
Check out Romper's new video series, Romper's Doula Diaries:
Watch full episodes of Romper's Doula Diaries on Facebook Watch.