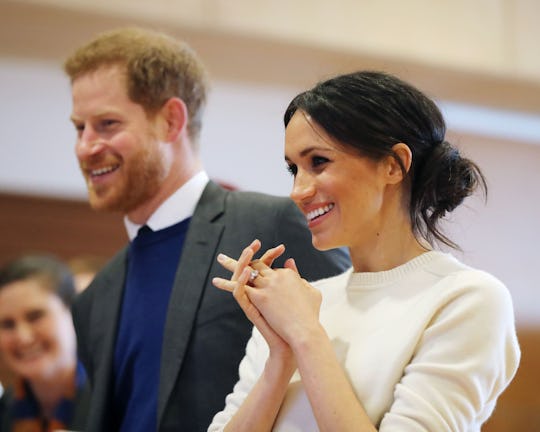 Pool/Getty Images Entertainment/Getty Images
Here's Why Prince Harry & Meghan Markle Probably Won't Be Royal Baby No. 3's Godparents
Given how much is going on within the royal family these days, it's understandable that people have questions — and lots of them. In case you somehow missed it, there's a wedding happening between Prince Harry and Meghan Markle in May and the birth of Prince William and Kate Middleton's third child is right around the corner. As the royal family expands, you might be wondering if the newlyweds will play another special role in this new baby's life, aside from being aunt and uncle, of course. Like, will Prince Harry and Markle be royal baby number three's godparents, too? It's pretty unlikely and here's why.
Considering the fact that Prince Harry is already the uncle to Prince George and Princess Charlotte, and will be to the upcoming little one as well, it makes sense that Prince William and Middleton have previously looked to other friends and family members to fill the godparent role. As In Style reported, "Neither Prince Harry nor either of Kate Middleton's siblings, Pippa or James, are godparents to either of their children."
But, on the other hand, when both Prince George and Princess Charlotte were born, Prince Harry was single. Soon after the next royal baby is born — on, or around April 23, as various reports have suggested — Prince Harry will marry Markle, on May 19. So, since the new heir will have an uncle and an aunt on its dad's side, it wouldn't be totally unheard of if the royal couple decided to go a different route this time.
But, before you get too excited about the the possibility of Markle becoming a godparent, let's have a look at the facts. According to Town & Country, both Prince George and Princess Charlotte each have a good amount of godparents. Specifically, Prince George has seven and Princess Charlotte has five. And none of the existing godparents are directly related to either Prince William or Middleton, either. In fact, the closest relatives in the godparent pool are cousins.
But, just to be precise, here are Prince George's godparents, according to In Style:
Oliver Baker, a friend of both parents from where Middleton and Prince William went to school, St. Andrews
Emilia Jardine-Paterson, one of Middleton's best friends that went to Marlborough College with her
Earl Grosvenor, who is also the son of the Duke of Westminster
Jamie Lowther-Pinkerton, the couple's own private secretary
Julia Samuel, who was a close, personal friend of Prince William's mother, Princess Diana
Zara Tindall, a cousin of Prince William
William van Cutsem, one of Prince William's best friends
Charlotte's list of godparents isn't nearly as extensive, but it also doesn't include any immediate family members. As can be seen, Middleton and Prince William haven't chosen family members who already have a large role in their child's life. So, it makes sense that they haven't chosen someone like Prince Harry, as he's already an uncle.
Speaking to Town & Country, royal expert Marlene Koenig said that this "is a definite move away from the more traditional — foreign royals or older relatives, none of who would have a close relationship with their godchild," because Prince William and Middleton didn't solely choose godparents based on connections or traditions, they went with people they had closer relationships with and trusted, the publication explained.
According to Hello! Magazine, royal expert Victoria Arbiter explained that the royals chose so many godparents for a good reason. "It's an important role," she told the magazine. "A godparent is there to provide religious guidance. It's also somebody who is there other than a parent or family member that a child could turn to."
So, until there's an official announcement, it really is all up in the air in terms of the next royal baby's godparents. But Uncle Prince Harry and (future) Aunt Meghan Markle probably aren't on the list, which is totally OK! Being aunt and uncle is an honor and responsibility enough, and Markle will probably have plenty of other responsibilities to catch up with after she weds Prince Harry.
Check out Romper's new video series, Bearing The Motherload, where disagreeing parents from different sides of an issue sit down with a mediator and talk about how to support (and not judge) each other's parenting perspectives. New episodes air Mondays on Facebook.