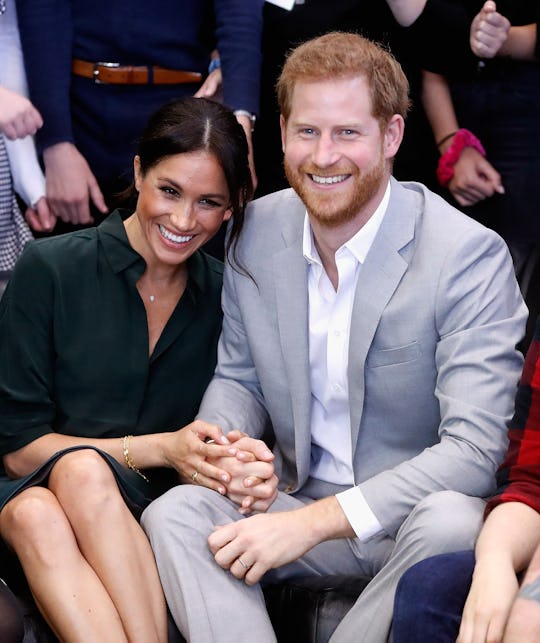 Chris Jackson/Getty Images Entertainment/Getty Images
Prince Harry & Meghan Markle Might Not Make Princess Eugenie's Wedding
Next Friday will be a very exciting day for the royal family (and uh, the entire world) because it marks the moment that we get not one but two royal weddings in a single year. Back in May, Prince Harry and Meghan Markle were momentarily the center of the universe as they exchanged vows at St. George's Chapel. But now, many are wondering whether they'll be onlookers in the pews come next week. Will Prince Harry and Meghan Markle go to Princess Eugenie's wedding? Here's what we know so far.
People reported today that fans of the royal family may be in for a bit of a disappointment due to some scheduling conflicts.
The magazine reported that, though there are many elements of Princess Eugenie's upcoming wedding that are similar to Harry and Meghan's, there's one specific difference that could play a role in whether or not the couple attend: the duration. People claims that Eugenie's wedding will actually last another whole day longer than Harry and Meghan's did. Though that's awesome (who wouldn't want to extend such a special day for as long as possible) it interferes with a trip that Harry and Meghan had planned prior. Ultimately, it could mean the two only attend part of the wedding.
Back in September, People reported that Harry and Meghan were scheduled to begin their 16-day tour of Australia, Fiji, Tonga and New Zealand on Oct. 16, just a few days after the wedding on Oct. 12. All of it will align with Harry's annual Invictus Games, which he will be in Sydney for, between Oct. 20 to Oct. 27. Though they will absolutely be home for the wedding itself, it's hard to say that with all of their other plans and travel commitments, they'll be able to stay for the entirety of the event.
The Invictus Games, which Town & Country reported was created by Prince Harry, is a series of sporting events in which wounded servicemen, women and veterans compete. Harry was reportedly inspired by a similar event organized in the United States back in 2013. "He saw how the power of sport could help physically, psychologically and socially," reads the Invictus Games website. "His mind was made up. London would host the inaugural Invictus Games, an international sporting event for wounded, injured and sick Service personnel."
As for Eugenie's exciting news, Buckingham Palace announced at the beginning of this year that she was set to marry Mr. Jack Brooksbank this fall. The Palace posted a tweet reading: "The Duke and Duchess of York are delighted to announce the engagement of Princess Eugenie to Mr Jack Brooksbank. Her Royal Highness and Mr. Brooksbank became engaged in Nicaragua earlier this month. The wedding will take place in the autumn of 2018 at St George's Chapel in Windsor, with further details to be announced in due course."
Of course, the royal family is super excited to have another addition joining so soon.
Town and Country reported that Eugenie's father, Prince Andrew, said he's "thrilled" for his daughter. "Jack is an absolutely outstanding young man and Eugenie and he have got to know each other over a number of years, and I'm really thrilled for them... I'm just completely overjoyed for them and wish them every happiness," he said.
Sarah Ferguson, Eugenie's mother, echoed her husband's statements. Express.co.uk reported she said: "We love Jack and I am so excited to have a son... Jack is a really sort of amazing bringer of light and he brings joy... I say to Jack, 'Always just stay yourself,' and I'd say that to anybody, just be yourself. What else can you do in life?"
Eugenie and Brooksbank are due to marry next Friday, Oct. 12.