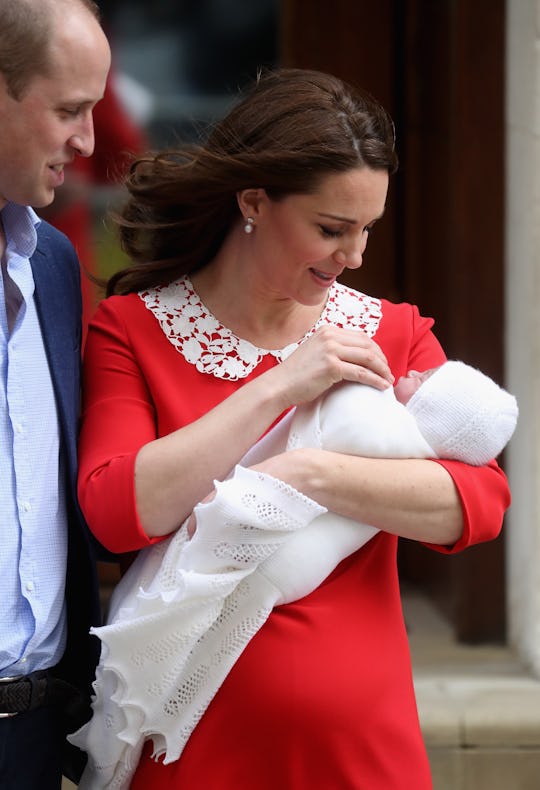 Chris Jackson/Getty Images Entertainment/Getty Images
Will Prince Louis' Christening Be On TV? Here's What To Expect On July 9
It's been a big couple of months for the royal family, and in just a few weeks, the Cambridges will gather for yet another historic moment: Prince Louis will be christened. Given the apex of publicity that surrounds some royal occasions―such as a certain Prince's wedding this past May―many may be wondering: Will Prince Louis' christening be on TV? Some may be surprised to learn that the Duke and Duchess of Cambridge have historically kept the day a private matter.
People reported that Prince Louis' christening is scheduled for next month. "The Duke and Duchess of Cambridge are pleased to announce that the christening of Prince Louis will take place on Monday 9th July at The Chapel Royal, St James's Palace, London," Kensington Palace said in a statement.
But as for whether the world will be able to tune in to watch the little Prince be baptized? The answer is probably not. Royal expert James Brookes told The Daily Express that though official photos from the christening are pretty much guaranteed, no cameras will be present at the ceremony. "Judging by the previous christenings, and the importance of the day for the family, Louis' christening will be a private affair," he said.
People reported that Prince Louis will be christened in the same place as his older brother, George. Princess Charlotte, on the other hand, was christened at Sandringham's St. Mary Magdalene church in Norfolk, where her grandmother Princess Diana was also baptized, according to The Telegraph. However, The Chapel Royal has an even more significant family tie between Prince Louis and his new aunt, the Duchess of Sussex.
Back in March, Meghan Markle was baptized into the Church of England at the same location where her nephew would also be baptized four months later. Express reported that the short service was attended by Prince Charles, Duchess Camilla, as well as Prince Harry. The baptism was followed by a confirmation so that she would be able to receive communion, and is in keeping with royal tradition. In April of 2011, Express also reported that Kate Middleton was baptized and confirmed as part of her "marriage preparations."
Prince Louis will also be christened by the Archbishop of Canterbury, Justin Welby, who not only officiated the baptisms of Prince George and Princess Charlotte, but also officiated part of Prince Harry and Meghan Markle's recent nuptials, The Sun reported. As for who will be attending the royal christening, News.com.au reported that the Queen, Prince Charles, the Duchess of Cornwall, Prince Harry, Meghan Markle, Kate's parents Carole and Michael Middleton, her brother James and sister Pippa (whom is pregnant with her first baby) will all be present.
In keeping with other royal family traditions, Prince Louis will be wearing the same christening gown that his older brother and sister wore, which is actually a replica of a gown commissioned by Queen Victoria in 1841, The Sun reported. Prior to it being recreated in 2004 after the royal dresser declared it too fragile to continue to use, 62 royal babies were christened in it over the course of 163 years.
One other detail that remains a mystery is who Prince Louis' godparents will be. It is royal tradition to have multiple godparents for each child, but it has yet to be announced who Will and Kate chose for Louis. Harper's Bazaar reported that Prince George has seven godparents (Prince William's cousin Zara Tindall, alongside friends Oliver Barker, Emilia Jardine-Paterson, Earl Grosvenor, Jamie Lowther-Pinkerton, Julia Samuel and William van Cutsem) and Princess Charlotte has five (Laura Fellowes, daughter of Diana's sister Lady Jane, friends Sophie Carter and James Meade, the Duchess' cousin Adam Middleton and the Duke's friend Thomas van Straubenzee).
Though there won't be live television footage, fans can look forward to a plethora of perfect baby christening photos, and likely a few (rare) photos of the entire family all together. It might not be live streaming, but it's enough to scroll through for days to come.