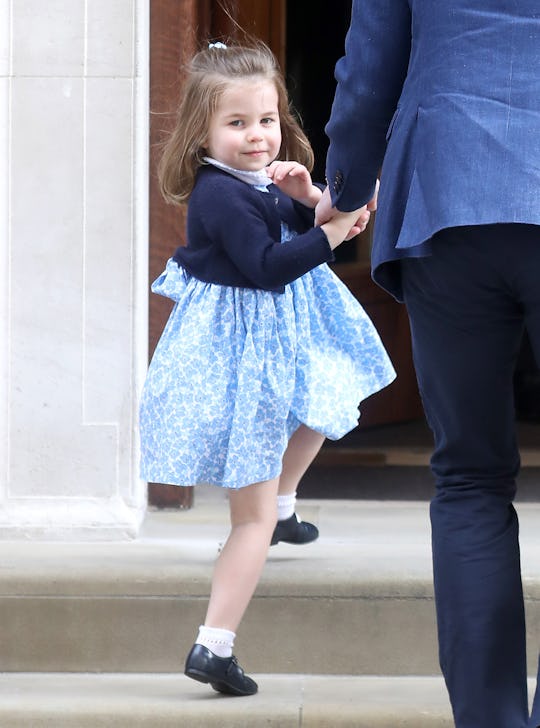 Chris Jackson/Getty Images Entertainment/Getty Images
In A Historic Change, Princess Charlotte *Won't* Lose Her Place In Line For The Throne
Many of us woke up Monday to the news that Catherine, the Duchess of Cambridge, was in labor with her third child, and it wasn't long before Kensington Palace officially announced that the Duchess had given birth to her second son. Royal fans finally had the chance to see the as-yet-unnamed infant for the first time when the couple made an appearance on the Lindo Wing steps at St. Mary's Hospital in London, but with another little boy in the family, some have wondered how the birth may have affected the line of succession. Will Princess Charlotte lose her place to the throne now that she has a little brother? Once upon a time that may have been the case, according to TIME, but thanks to a revision of succession laws a few years back, the princess will get to keep her rightful place as fourth in line for the throne no matter what.
Until 2013, the the British monarchy's succession laws were ultimately dependent on gender, and it meant that a princess would actually be bumped back in line for the throne if she were to end up with any younger brothers, since they'd automatically be placed ahead of her. Not only is that a super old-fashioned, sexist rule, it's also been proven to be pretty baseless — at 92 years old, Britain's longest-reigning monarch, Queen Elizabeth II, is still clearly a force to be reckoned with, and it definitely makes the idea that any modern-day princess should take a backseat to her younger brothers seem thoroughly ridiculous.
Thankfully, the rules have since changed: after the Succession to the Crown Act came into effect, all royal boys born after Oct. 28, 2011 would no longer be able to surpass their older sisters in line for the throne, according to The Sun. Luckily for Princess Charlotte, her parents happened to get married in 2011, meaning that all of their children would ultimately succeed to the throne in birth order, regardless of gender.
Since the couple actually had a son, Prince George, first, followed by their daughter, the rule change didn't actually have much of a practical application. But with the announcement of the Duchess' third pregnancy, it became possible that the newest royal baby could actually be the first to be directly affected by the rule change. And when it was confirmed on Monday that the royal couple did, in fact, welcome a boy? Princess Charlotte officially became the first royal girl to not get bumped by her brother.
To be fair, that doesn't necessarily mean that Princess Charlotte is any closer to actually being queen one day: her grandfather, the Prince of Wales, her father, the Duke of Cambridge, and her brother, Prince George, are all ahead of her. But it's still an important victory, and one that cements the princess in her position in the royal hierarchy.
One person who did still get bumped by the royal baby's arrival though? Prince Harry. While Prince William's younger brother was once third in line for the throne, that all changed when the Duke and Duchess welcomed Prince George in in July 2013. As the first-born son of Prince Charles and the late Princess Diana, Prince William's children outrank Prince Harry according to succession laws, and now that there are two more children ahead of him, Prince Harry currently sits sixth in line for the throne, according to The Telegraph.
The not-so-great reality for Princess Charlotte though (and perhaps something she will one day be able to commiserate over with her uncle)? The very same rule that put her ahead of Prince Harry will one day put any children Prince George may have ahead of her. In fact, according to The Telegraph, the current line of succession means that, once Queen Elizabeth's reign comes to an end, the only likely reason that anyone currently alive today will end up seeing another British queen on the throne would be if George ends up abdicating, or if he dies before Princess Charlotte without having any daughters to take his spot.
Of course, Princess Charlotte may not actually end up caring all that much whether she has a realistic shot at becoming queen one day. In a June 2017 interview, for example, Prince Harry said that, not only did he not have a particularly burning desire to be king, he didn't actually think that anyone in the royal family specifically longed for the job. According to The Guardian, the prince explained,
We are involved in modernizing the British monarchy. We are not doing this for ourselves but for the greater good of the people ... Is there any one of the royal family who wants to be king or queen? I don't think so, but we will carry out our duties at the right time.
Besides, it's pretty clear that Princess Charlotte has already established herself as everyone's favorite royal, so who really needs the throne anyway?
If you're a fan of the royal family, then it's definitely a pretty exciting time — honestly, waiting eagerly to catch a glimpse of the new royal baby outside the Lindo Wing is actually much more entertaining than it seems like it would be. But the fact that the royal birth also represents a big step forward in gender equality in the monarchy is a pretty big deal too. And it's comforting to know that the outdated rule won't ever be something Princess Charlotte will have to worry about.
Check out Romper's new video series, Bearing The Motherload, where disagreeing parents from different sides of an issue sit down with a mediator and talk about how to support (and not judge) each other's parenting perspectives. New episodes air Mondays on Facebook.