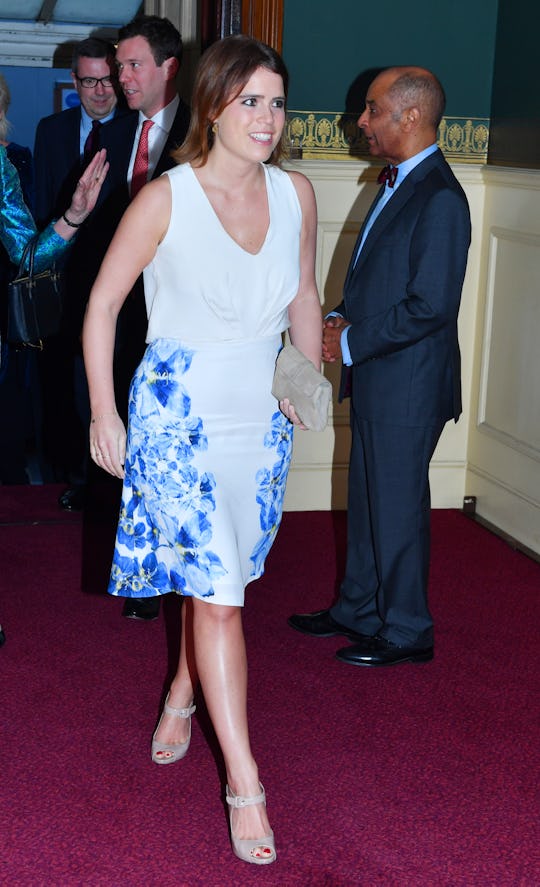 WPA Pool/Getty Images Entertainment/Getty Images
Here's Why Princess Eugenie Probably Won't Sign A Prenup Before Her Wedding
When Princess Eugenie walks down the aisle at Windsor Castle's St. James' Palace in October to tie the knot with Jack Brooksbank, she'll be following in the footsteps of her royal cousins and marrying a "commoner." And though he may not be gaining a royal title like Kate Middleton and Meghan Markle did following their weddings, that means Brooksbank will still be rising up the social ranks big time. With so much wealth at stake, it seems like there'd be a lot of legal "what-ifs" to address ahead of their wedding, but will Princess Eugenie sign a prenup? According to royal insiders, the answer is, actually, probably not.
Princess Eugenie's wedding day will certainly be a big deal for the royal family — though it may not quite be a spectacle on the same scale as Prince Harry's wedding in May, a royal wedding is still certainly a major event. And even though Princess Eugenie, and her older sister, Princess Beatrice, aren't actually working royals carrying out public duties on behalf of the Queen, they still have pretty sizeable bank accounts: according to The Sun, Eugenie, who is currently eighth in line for the British throne, has an estimated net worth of $4.6 million.
Most of that amount is said to have come from trust funds set up in her name by her grandmother, Queen Elizabeth II, and, according to The Sun, Eugenie and Beatrice also received additional trust funds following the 1996 divorce of their parents, the Duke and Duchess of York. But both Princess Eugenie and Brooksbank are also doing pretty well for themselves in their own rights: in 2015, the princess began working full-time for London art gallery Hauser & Wirth, while Brooksbank is the European brand ambassador of Casamigos tequila, according to Hello!.
These days, the couple lives together at Kensington Palace's three-bedroom Ivy Cottage, a stone's throw from the Duke and Duchess of Sussex' Kensington residence, Nottingham Cottage; and not far from the Duke and Duchess of Cambridge's residence, Apartment 1A, according to People. In other words? Even without being on the royal payroll, it sounds like the couple is still living a pretty enviable life.
So why, then, would the princess eschew a prenup in the event of a separation down the line? It's not just about romantic optimism: according to Town & Country, royals just don't sign prenuptial agreements before they're married. Author Katie Nicholl told the magazine that while the contracts may be "commonplace in celebrity marriage," they aren't in royal ones — Nicholl said that none of the Queen's four children signed prenups, despite three of their marriages ending in divorce (and, as in the case of Prince Charles marriage to Princess Diana, and Prince Andrew's marriage to Sarah Ferguson, quite difficult divorces at that).
Even with his own parents' marriage ending as it did, Prince William likely did not have a prenup put in place ahead of his wedding to Middleton in 2011, and even though Markle was already a celebrity prior to her wedding this year, she and Prince Harry are still thought to have gone ahead without one. Ahead of Prince Harry and Markle's wedding earlier this year, royal author Ingrid Seward told People that, in general, the agreements are also "just not a British thing."
Even if they were though, it's also worth remembering that "the majority of the [royal] family's fortune and property belong to the Queen and the crown," according to Town & Country. In other words, neither Princess Eugenie nor Brooksbank would likely have any claim to Ivy Cottage in the event of a divorce, nor any other royal residences they may go on to call home during their marriage.
What's more is that, even though Princess Eugenie's net worth is likely higher than her husband's, she may also be afforded more legal protection in the case of a split: according to UK-based law firm Mills & Reeve, money set up in a trust may be "treated differently to other assets in the divorce," depending on how it has been used.
Regardless, the only people who will ever really know for sure if Princess Eugenie and Brooksbank sign a prenup ahead of their wedding will be the two of them, and they almost certainly won't ever be commenting on it. But for the sake of their royal love story, let's just hope that they won't ever need one, either way.