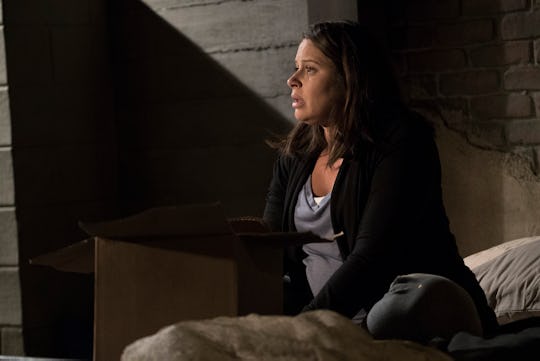 Eric McCandless/ABC
Sorry Gladiators, But The Odds Of Quinn Returning To 'Scandal' Are Slim To None
Scandal is currently in its final season and although its ending was meticulously planned by Shonda Rhimes and ABC before the season aired, it seems like a few unexpected conflicts still plagued the show. For one thing, Katie Lowes went on maternity leave following the birth of her son Albee last October, but then her character appeared to get killed off. The confusing plot twist has fans wondering: will Quinn return to Scandal? From the looks of Twitter and considering the tone of Quinn's funeral: it really doesn't seem like it.
The midseason finale found a very happy, if totally anxious, Quinn and Charlie on their wedding day. But just before the ceremony, Quinn disappeared, apparently out of thin air, from the elevator of OPA. A manhunt began for the very pregnant gladiator, and only Olivia knew that Rowan was the culprit. She went to his house and called in a hit on him, while he pulled his gun on her. (Ah, the loving bond of a father and daughter.) After a tense game of chicken, Rowan finally lowered his weapon, only to stalk off toward an unseen room of the house, firing his gun shortly thereafter. We heard a woman's scream and a very shaken Olivia realized that she just killed one of her best friends, the successor of her empire, and a woman on the verge of giving birth.
Viewers never saw Quinn's body, but the gladiators eventually discovered the charred remains of a woman who was identified as Quinn Perkins. She was still dressed in her wedding day look and Huck, her eagle-eyed man of honor, noticed that she was found wearing an antique hairpin which they didn't pick out together. He traced it back to the Smithsonian and realized that Rowan, and by extension Olivia as the new Command, was responsible for her death.
Although it's always a safe bet in Shondaland to assume that nobody's dead until we see a body, Quinn's funeral had a very final air to it. Each of the seven remaining gladiators took a moment to fire bullets filled with her ashes (a très Quinn way to go out), accompanied by a flashback of a memorable scene they shared with her. It was super a emotional and intentionally crafted tribute, which makes me think it was intended to be a very final goodbye. It's hard to imagine going through all that effort to say farewell to Quinn in such a satisfying way just to bring her back.
Meanwhile, both Katie Lowes (who plays Quinn) and Shonda Rhimes were tweeting out very emotional goodbyes as the episode aired. Back in May, Rhimes released a statement about the end of Scandal, saying in part:
...Next year we are going all out. Leaving nothing on the table. Creating this world in celebration. We are going to handle the end the way we like to handle the important things in our Scandal family: all together, white hats on, gladiators running full speed over a cliff.
Although initially Lowes' break from the show was framed as a temporary maternity leave, it seems like she decided to quit while she had the chance, rather than returning for a final handful of episodes. The emphasis in her tweets, as well as Rhimes', on spending time with her baby point to a possible reason for her unexpectedly permanent departure. The series has 10 episodes left to find an ending, and, aside from seeing flashbacks of what happened to her in this week's episode, it looks like the gladiators are going to have to find a way to make peace without Quinn.
Check out Romper's new video series, Romper's Doula Diaries:
Watch full episodes of Romper's Doula Diaries on Facebook Watch.