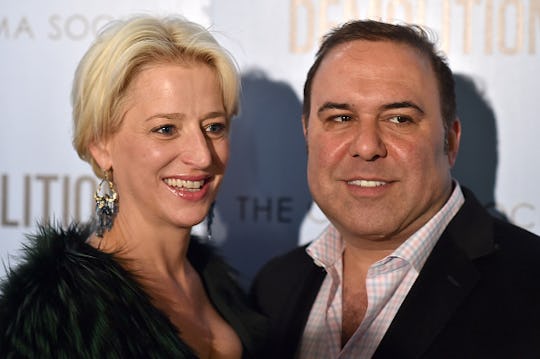 Dimitrios Kambouris/Getty
Will Ramona Singer & John Mahdessian Ever Be Friends? 'Real Housewives' Doesn't Suggest It
On Wednesday's episode of The Real Housewives of New York, the drama that has been brewing between Ramona Singer and friend Dorinda Medley's boyfriend John Mahdessian finally came to a very ugly head. Ramona showed up to John and Dorinda's party for John's business, Madame Paulette, though Dorinda says she wasn't even invited. The night ended with John kicking Ramona out of the party, throwing a meaty hand in her face while she cried in outrage, "Oh my god, Dorinda!" The night ended with shouting on the sidewalk, and both Ramona and Dorinda heading home in cabs. At this point, there is no hope that John Mahdessian and Ramona Singer will ever be friends on Real Housewives.
This moment was a long time coming. Ramona has said that she always felt that Dorinda was too classy for John, and she certainly made no secret of the fact that she seriously disliked her good friend's chosen partner. The disconnect between Ramona, one of Dorinda's closest friends, and John, her boyfriend, has put a strain on Dorinda's relationships with both. Though for Dorinda's sake, both John and Ramona tried to bury the hatchet, although it wasn't very successful. Ramona, in particular, being Ramona, was prone to slips of the tongue always betraying how she really felt. For example, when the women got psychic readings at Carole Radziwill's house, the psychic said that Dorinda wouldn't marry John, and Ramona blurted out, "Thank god!" And after he kicked her out of the party, here is why the two will probably never get along.
Ramona Hasn't Liked John From The Beginning
In her blog from early in Season 8, Ramona had this to say about Dorinda and John, "I have been friends with Dorinda for 20 years. I knew her deceased husband well. He was extremely intelligent, very elegant, educated, on the board at Harvard, advisor to George Soros, and had impeccable manners. John has different characteristics." Oh. Not a huge fan, then.
The Social Media Wars Have Begun
Both Dorinda and Ramona live tweeted Wednesday's episode of The Real Housewives of New York, and they did not hold back. Dorinda called Ramona certifiable, and Ramona fired back by calling out the way John treats women.
John Is Not A Ramona Fan Either
At Dorinda's urging, John has begrudgingly made some attempts to make nice with Dorinda's friends. He tried to apologize to Bethenny at least. But every time he's on camera discussing Dorinda's relationships with the other women, he invariably says something disparaging, particularly about Ramona.
This Was A Long Time Coming
Since Dorinda first joined Housewives in Season 7, the other women have had a problem with her boyfriend, John. Remember Sonja Morgan's infamous cry, "What are you doing here without Dorinda!"? And, of course, his dance moves with Kristen Taekman. John has never been popular, and sometimes first impressions stick.
Ramona and John will probably never get along, but more importantly, what does this mean for Ramona and Dorinda's relationship?